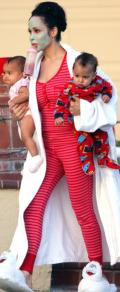 Nadya Suleman, aka Octomum, has 14 children. 8 of whom are babies under a year old. She was recently papped wearing a fetching combo of green face mask, stripy pyjamas and comedy monster slippers, with a baby's bottle hanging from her mouth but hello? Did I mention she has 14 children? 8 of whom are babies under a year old? In my book the fact that she's fully clothed and finds time to apply a facemask practically qualifies her for sainthood. Assuming it's only juice in that bottle, of course.

And on the subject of saintly mums, I take my hat off to Sarah-Jessica Parker. She's been in the press this week talking about how hard is is to juggle life as a working mum. We can roll our eyes and dismiss her perspective on the basis that she probably has an army of nannies and can afford to buy herself out of a bad day. But listen to this; "I'm probably faring as well as most working mothers in America and across the globe.  Some days are absolutely triumphant. Other days you've basically let everybody down and you lie in bed and live in regret and plan the next day," she admitted to a US magazine. There. Suddenly you like her a whole lot more, right? She's honest about the bad days and she's bringing up baby twins and a seven-year old son in between holding down a glittering international career. Respect.
SJP also commented on the number of celebrities who say they juggle careers and motherhood practically single-handedly. "I hear a lot of actresses pretend they don't have help, and that can't be true," she said. "It's really unfair to working women in this country who read celebrity news and think, 'Why can't I lose weight when I've had a baby?' Well, everyone you're reading about has money for a trainer and a chef. That doesn't make it realistic." Well said, that woman.