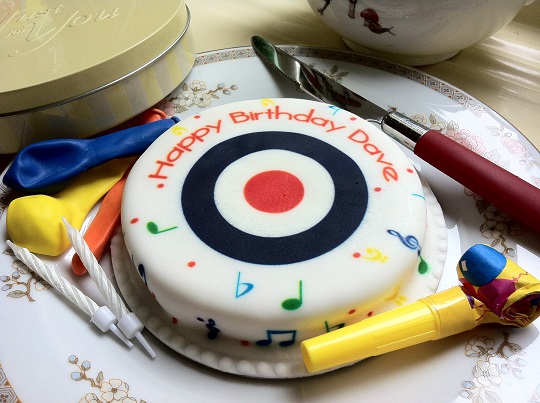 Take a look at the cake in the photo above. That beautiful cake came through my letterbox. Professionally iced, personalised and made to my specifications, then delivered with my mail. How cool is that?
Letterbox gift cakes are a 'petite' size, which means they're about big enough for four people to get a good sized slice. And they can be personalised, which means you can either pick a design from the website, and add your own message, or you can create your own using an image.
Obviously it arrived safely, as you can see above. And like me you are probably already thinking of all the great possibilities, especially as gifts for friends and events like Father's Day (this Sunday in case you didn't know!).
Who wouldn't like to get cake in the post? Well, read on to find out whether it was really worth it ... or not.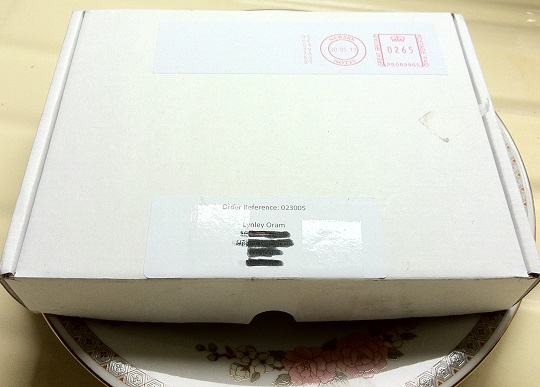 Yes that's it. The box the cake came in. Doesn't look very big, and it looks rather ordinary too. But that's all there is to it, and if you have a standard letterbox, it will pop through your door nicely. As it did with mine.
Don't worry if you have a drop to the ground either. As you can see with the next picture, the cake is protected. Prices for the Letterbox Gift Cake start at £14.99. Some extras cost more, such as an extra £2 should you opt for the chocolate cake (made with Belgian chocolate). But the pricing is very clear.
Once you've decided on a design, and the wording on the cake, make sure that the Letterbox option is selected. Our cake was a carrot cake, but you can also choose to have sponge, fruitcake, chocolate sponge, and gluten free. Some may cost a little more. Fruitcake is a good choice if you want to send this overseas. The company, Baker Days, has already had a few orders for cakes to go to Afghanistan.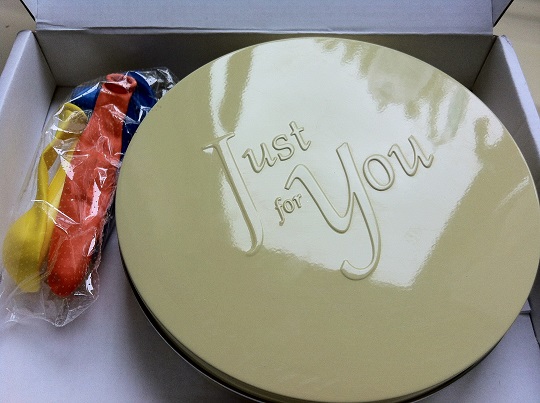 I didn't expect to get the little package of balloons, party blower, and two candles that came with the cake. That was nice. As was the substantial tin that the cake comes in. This is lovely by itself, with the embossed 'Just for You' on the lid, and striped sides. Once the cake is finished it would look good as a storage container on the shelf.
The cake is very nice packaged, and safe in the tin. As well as being sealed in a cellophane wrapper, there's a tag to help you pull the cake out. It's possible to keep the cake for up to two weeks in the fridge, which is handy.
I was thrilled with the icing. They didn't have anything on the site that really suited my husband, so they were kind enough to adapt an existing design. I just gave them a few ideas to work with, about things that he likes. Which are playing the drums, The Who, and driving about on his Lambretta scooter. I was really thrilled with what they came up with.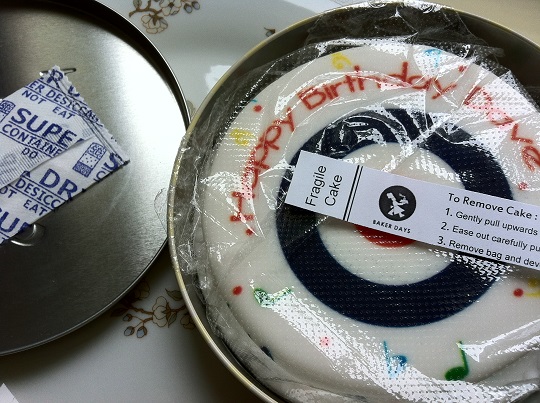 The cake went down a treat. I made it the centre piece of a special, surprise morning tea/brunch. The carrot cake was moist, as I like it, and delicious.
Do I like this idea? Yes I do! I won't be in the country when it is my best friend's birthday, so I'm ordering her one of these. The price is comparable to what you might pay in a high street bakers, and the little extra touches make it really special. I am ordering her the chocolate sponge, so I'll let you know what she thinks.
Pros: a great size, excellent value, nice extra touches, handy to be able to post the cake
Cons: you could get a bigger cake at the supermarket, or make it yourself, although that would miss the point
Overall verdict: 10/10