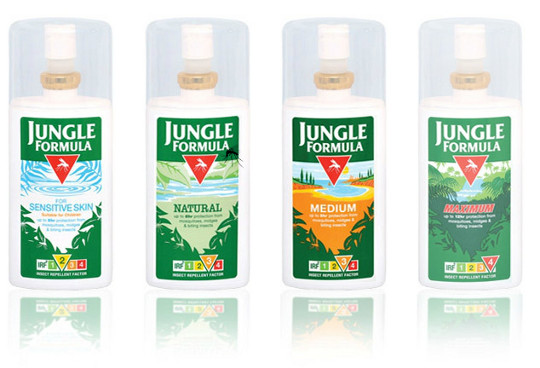 We were sent a bottle of Jungle Formula Outdoor and Camping Insect Repellent recently, and took it on a camping trip with us a few weeks ago. It never came out the camping bag the whole weekend, because there wasn't a single flying or biting insect about. Fabulous. Except, since we've been home, we've been invaded by spiders and mosquitoes. My husband says the same happened last August, when I was abroad for the month, but this year I'm here and experiencing it! Yuk.
Anyway, there's something about my blood. Despite the fact that I eat as much garlic as the two other eating people in our house, my blood must be sweet or something, because mosquitoes and midges will fly over my daughters and my husband and make a feast out of me. I wake up every morning counting my new bites. Of course, as a good mum, I'm glad they leave my kids alone but I can literally sit and count new spots every morning – 13 at the last count, so I was very happy to try a repellent.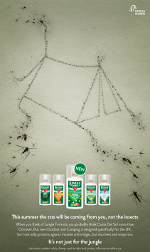 Jungle Formula Insect Repellent is suitable for use from 12 months old and up. It has an insect repellent factor of 3 (out of 4, it seems) and is for use in the UK and Northern Europe – i.e. countries that don't carry a known risk of Malaria or other known insect carried diseases.  It can be used to dissuade midges, wasps, mosquitoes, bees, and horseflies from your person, but it does recommend that if bees (or wasps, I suppose) come near you, you don't make any sudden moves.
It says on the bottle that it can last for up to six hours when outdoors and camping. I'm not sure, but wonder whether that means it would last longer indoors? It's an odd specification to make with no explanation.
The bottle it comes in is not an aerosol, so it doesn't come with a butane smell, which is nice. The liquid sprays out like a deodorant, in a 'spritz' and is white. You can spray directly onto your skin, or into your hand and rub it in – which is advised for the face anyway.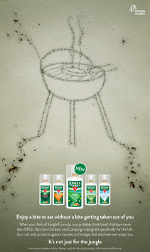 The repellent has a very odd smell, a little like dishwashing liquid, so not wholly unpleasant, but not what you want to smell like indefinitely either. It does absorb really quickly into the skin, and once absorbed has absolutely no scent at all.
It didn't burn on application or absorption, which is nice for adults but also specifically for children – but I didn't spray it on broken or burnt skin, so that's worth bearing in mind too.
I've been using it on exposed skin while at home in the evenings, and the days I use it do make a difference to the number of bites I have in the morning, definitely. I'm not sure I'd want to use it every day ad infinitum though, because it is quite a chemical rich cocktail, and while it doesn't contain any propellants, it does still leave the skin ever so slightly dry – or taught is probably a more accurate word.
The Good
It:
Works!
Doesn't have an overwhelming/overpowering smell
Absorbs superbly quickly
Doesn't leave any sticky kind of residue
Sprays out in a gentle fashion without the smell of butane, which is always a stomach turner for me – and can burn children in the application
Comes in a 75ml bottle, so you can take it with you in hand luggage if you're flying.
Once you've applied it, you can quite easily forget that you ever put it on.
The Bad
Full of chemicals
Dries the skin out a little and I'm not sure if moisturising over it will reduce the effectiveness of the repellent.
The Verdict
It's a good little product. If you're going camping or spending time outdoors, it's under £8, depending on where you buy, and it sure as heck beats becoming dinner at a mosquito party!