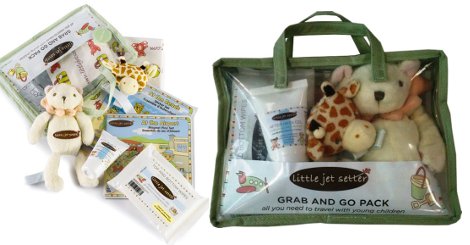 Little Jet Setters Grab And Go is "all you need to travel with young children." Or at least that's what the packaging claims.
I must admit, I pretty much agree.
The Grab and Go Pack includes:
A soft toy – small enough to be something to play with and cuddle up to without needing to book an extra seat.
A travel toy clip – this is a rather odd, but very useful little gadget if you don't want to be bending down and crawling around under seats to find lost toys for your whole flight or journey.
3 Disposable bibs – although I'm not much a fan of disposable items, environmentally speaking, these are definitely very useful on longer journeys. They are soft but very strong, and plenty absorbent. And way better than a wet or dirty top after a bit of turbulence or a bump in the road.
3 Disposable change pads – again, very useful – assuming you don't have a change pad in your nappy bag already. Still, they make nice little ground covers, and are very good quality.
A reusable sticker play set and a reusable magnet play set. I was really surprised by these, and they definitely made the pack a winner for me. We've saved the sticker set for our next trip, but the magnet set went down really well. I didn't expect my 18-month old to really care for it much, but it kept her entertained for ages. We actually just keep it in the car now for regular trips, and she loves it. The only down side is that the stickers themselves can get lost, but on the up side, the magnetic pad is travel toy clip ready.
Crayons and doodle area – the actual 'packaging' of this set turns over to be a colouring in page, which I thought was pretty inventive. The five crayons are thin though, so weren't ideal for Kyra, but then the packaging says it's for children 3 and up, so maybe it's fine.
All-natural baby wipes – ideal for travel, this smaller sized wet wipe bag is really useful too. They do say there's no alcohol, parabens or SLS 's, which was a relief because companies tend to go for the cheaper things sometimes, and here they obviously haven't. There are 20 wipes in the pack.
And finally, the After Mess Gel – while we don't normally use sterilisers and sanitisers, I did find this really useful on a flight where getting up to go to the bathroom to wash hands wasn't always possible. Of course, that's what the wipes are for too, but as I say, I found this to be a good substitute for water.
Overall, I'm really impressed with this set, its compactness and, especially in our case, its flight-readiness. Available at Little Jet Setters for £19.99.