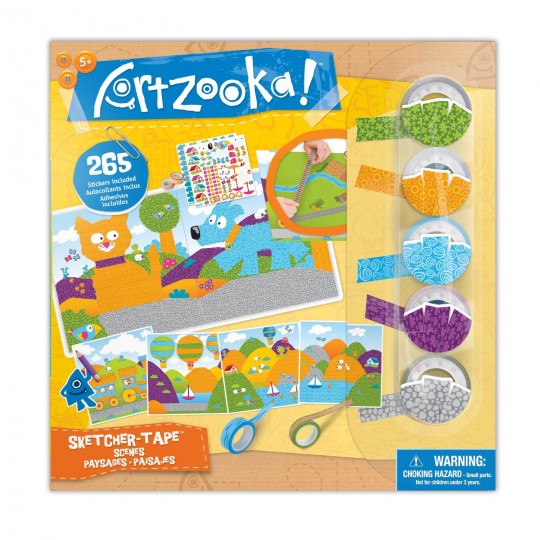 Have you ever used Artzooka? Yeah, us neither, so when we got one of these sets as a Christmas gift, we were both baffled and excited. Yesterday we unearthed the set from under a pile of things that had been put in the "to sort out when we have time" pile and instantly my daughter wanted to get stuck in. The timing could not have been more perfect as I wasn't well and she has a bit of the same cold, perfect for indoor entertainment that isn't the silly TV.
We have the Artzooka Artzootape Book Theme No.1 (yes, that is it's real name) which is currently on sale on Amazon* for £8.80. That's a bit of a reduced price, which is ace. Inside the kit you get a bunch of different backgrounds – one has a giant cat and another a giant dog while the rest are rolling hills and water scenes – five different types of tape and a bunch of cool stickers.
Straight off this is dead easy to use. At first we used scissors, but you can tear and strip the paper – a lot like washi tape – to fit it into awkward areas. The tape has lovely designs on it and is fantastic to work with. Sticky enough to adhere to the board, but it can be removed and re-applied if necessary. That isn't advisable as it can get quite stuck, but you do have some wriggle room in case of emergency.
I love the fact that you get more stickers than there are boards so kids can spend ages deciding how they want to create each scene. And the quality of the boards is superb. No matter how wonky your sticking, the images look fab when you're done, and kids love it.
The down side is that there isn't enough tape to cover all the requisite areas in each specific colour, so you'd have to buy more, and the one tape had been badly printed so halfway through it had a black stripe down the side. Still, for less than a tenner and with so many designs to choose from, this is a brilliantly quirky and creative and inspirational toy for kids. I give it a hearty 8/10.