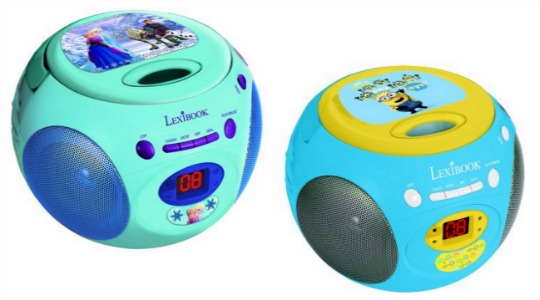 This year, my eldest sons received a CD Player each in their bedrooms. These were gifts we bought them as they already have gazillion toys. They absolutely LOVE them and they are never off. If you are looking for a gift that isn't boring clothes but isn't toys either, then you need to check out these Lexibook CD Players. You can choose between Disney Frozen or Despicable Me. They are currently £29 which is the best price they have ever been on Amazon and much better than the £40 odds, you normally see them selling for.
The Lexibook Despicable Me and Disney Frozen CD Players feature a scan FM radio, which is ideal for picking up those local stations and also has a top loading CD Player. They are bright and colourful and would look awesome in any child's bedroom.
If your child is a bit too old for Despicable Me or Disney Frozen then Amazon are also selling this Goodmans Karaoke Machine with LED Lights* for just £29 delivered too.
Delivery is FREE but if you would rather, you can use Amazon's Click and Collect service instead. Click hereto find out where your nearest one is.