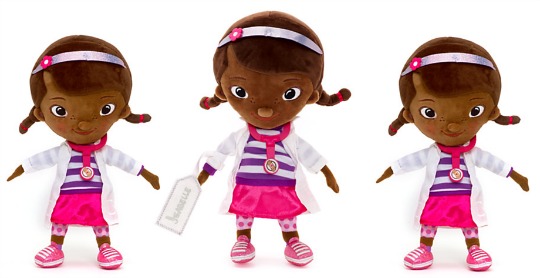 The Disney Store has a small selection of reduced toys that work out at great value now that the Free Delivery offer is on. One of them is this Doc McStuffins Soft Toy which is reduced from £12.99 down to just £5.
This doll is £13.99 at Amazon, so this looks like a really good price. It's 31cm tall (approx 12 inches), and is suitable for all ages, even from birth. The reviews are all great, and although this soft toy of Doc McStuffins doesn't talk or anything like that she is ideal for little ones to cuddle and play with.
This soft toy is also one of the items that you can get personalised, so for an extra £2.95 you can get your child's name embroidered on the label. I think £7.95 is an amazing price for a personalised Disney toy, though lots of the special offers are looking like great value with this weeks Free Delivery offer. If there was anything you had your eye on from the Disney Store then now is the time to order, as that delivery offer is saving you a whopping £4.95.