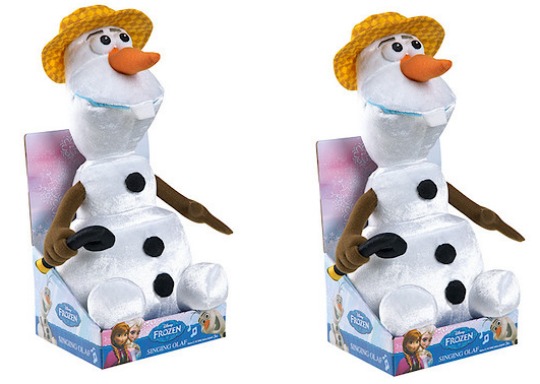 With an RRP of £19.99 and still £20 at The Entertainer and £18.99 from Toys R Us, this looks a great price for the hugely popular Olaf from Amazon. Especially as it comes with that all important free "Super Saver" delivery.
This plush Olaf does what Olaf from Frozen does best – sing! His choice of song is "In Summer" and his measurements are 12.7 x 15.2 x 31.8 cm. He requires 2 AA batteries which are included and this particular chap also has cracking reviews on Amazon UK. From four reviews, three left the maximum 5 stars, with the remaining leaving 4.
With lots of kids looking for Frozen merchandise this Christmas Olaf is as, if not more, popular than the two sisters, Anna and Elsa and as the weeks march on it could be a case of "Can we get what we want?" Frozen wise, rather than worrying about the price, so it makes sense to grab a bargain when we can.
Don't forget as your purchase is over £10, you'll not only receive free super saver delivery but you'll also get a £2 code to spend in the Amazon Appstore. Every little helps as they say!
Frozen, sooo last year?! Not a chance!