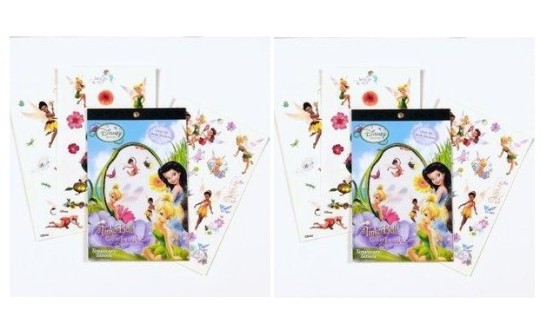 There's a book full of temporary tattoos from the Tinkerbell movie series available for £3.44 delivered from eBay. 
There's honestly not a whole lot of information on these, but how hard can it be right? I am assuming they work like the little square goody bag fillers you can buy - cut out, wet, and stick on. Rub off with baby oil or olive oil.
The difference is these are really pretty, and perfect for a fairy party, or a fairy princess!
It's my daughter's birthday party in a few weeks and so far we've gone from 'mermaid party' to 'frozen party' to 'princess party' and just today I heard murmurs about a fairy party, so we'll have to see what comes next. She's sure running the gambit of girly themes though!
I love these temporary tattoos - they're different to the usual, would make nice goody bag fillers and fun party activities too.