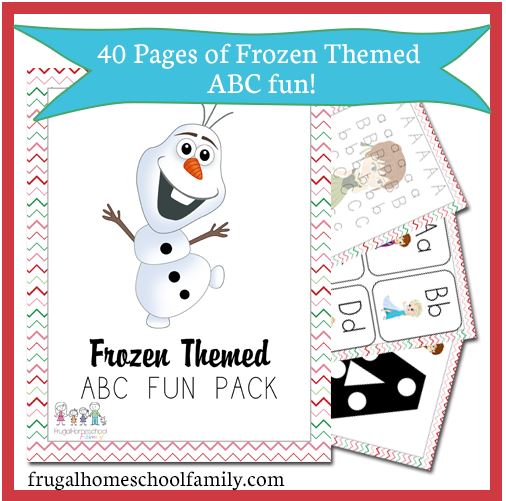 Frugal Homeschool Family have put together a 40-page Frozen letter learning pack, perfect for rainy days or any excuse for a little fan to fill some time with. This PDF is free to subscribers to the website, but all you have to do to subscribe is enter an email address. There's also a second link with more activities, and less educational bits if that's your preference.
It doesn't look like Frozen fervour is going anywhere for a while yet, and while many of the supermarkets and the Disney store and other retailers are out of stock almost as soon as the stock hits the shelves, the internet provides a fabulous solution to frustrated parents and disappointed children.
One of those is the 40-page alphabet pack made by blogger Heather from FrugalHomeschool Families. In this pack there's a practice sheet for letter formation, flash cards for the alphabet and full page sized letters too. Personally I'd laminate the first section so the kids could practice their letters over and over with a wipe-off pen. I love it.
The flash cards are great for putting together simple words too - and since it's a PDF you can print more copies for bigger words, or only the flash cards or only the practice pages - whatever you need. It's a great way to get little princesses practicing their writing!
Another is the activity pack from Oh My Fiesta. This is more about mazes, memory and spot the difference. The two packs aren't really comparable as they  have different aims, but both are free, both are printable, and both would be loved by little people.
Thanks to staronthebluesky from HUKD for the links!