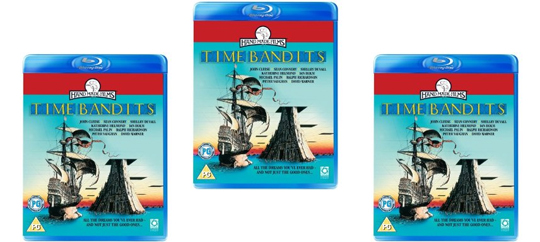 Amazon are selling copies of the Time Bandits on Blu ray DVD for just £4.69 - so are Play, just as an aside, if you prefer to buy from them or Amazon put their price up.
This is one of the best films ever made and I first saw it w-a-y back in my junior school days - you know at Christmas time when the last couple of days of term are spent not doing anything other than playing games and watching films in class?  Well the Time Bandits was one of those films.
It's a story about pirates who travel through time on a pirate ship and a boy, living in the 1980s, gets involved when his wardrobe becomes a gateway into time, space and another world; he is then part of the battle to save the past, present and future along with an little bandit gang of dwarves, Napoleon, Robin Hood and Agammenon!
I know it sounds bonkers and it is - it's written by, and stars John Cleese, Michael Palin and Terry Gilliam of Monty Python fame, so there's plenty of  Python comedy for those of us old enough to appreciate it, along with general adventure and magical storytelling for the kids.
It's GREAT; if you've never seen it - buy it.  If you've seen it but don't own a copy - buy it.  If you've got a copy on standard DVD - buy it in this Blu ray format!
If you choose the Amazon SuperSaver delivery option then you won't have to pay any extra for postage; there aren't any delivery charges if you choose to go through Play either
Thanks to andywedge at HUKD