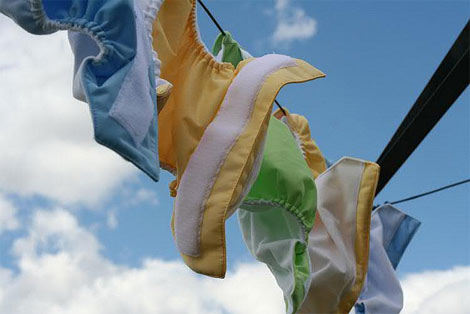 Today we've got a guest column from Molly Forbes. She is a freelance journalist and writer, juggling work with her main job as a first-time mum to a very loud ten month old baby girl. You can read more of Molly's writing at her professional site Mollyjforbes.com or her blog Mothersalwaysright. If you enjoy this article, don't forget to read Luschka's post on cloth nappy discounts.
Nappies are expensive, especially if you have a baby who needs changing as often as mine. Since the birth of my daughter ten months ago I must have spent at least £300 on disposable nappies, that's quite a lot for something that's just going to end up in the bin.
I didn't even consider cloth nappies, put off by the thought of mountains of washing and terrifyingly large safety pins. The idea of soaking dirty nappies in a bucket and then hanging up the stained rags on a line really didn't appeal.
But then the maternity pay ran out and we decided we needed to make some changes if we were to avoid financial ruin. It was either stop the baby's swimming lessons or switch to cloth nappies, a no-brainer really.
Before going all-out reusable, I thought I'd test the waters. So as part of this week's Real Nappy Week I have been swapping one disposable a day for a cloth nappy. And I'm a converted woman.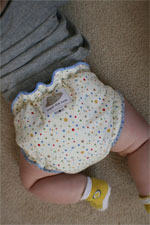 Cloth nappies have got with the times. They're now, well, trendy. Gone is the bulky terry towelling version with enormous safety pins. Reusable nappies are now no-nonsense cloth squares which easily fold and fit snugly inside a nappy cover with Velcro fastenings. That's not all. The nappy covers come in all sorts of brilliant designs, from stars to stripes, leaving frustrated fashionistas like myself spoilt for choice.
The washing part is easy too. Once used, the dirty nappies can be added to a normal wash and spun at 30 degrees, with a scoop of nappy sanitizer. All the mucky stuff goes down the toilet with the nappy liner, so there's no need to spend hours soaking cloth nappies in buckets. That said, I think a bucket is a handy investment if you want to switch to cloth completely. It means you can chuck the dirty nappies in there as you go and put a load in the washing machine at the end of the day.
The figures show that swapping to reusable nappies long-term is good for the environment as well as your wallet. Disposable nappies account for 4% of all household waste in the UK, which can be as high as 50% for a family with one baby.
This is an expense councils have to pay for, so many are trying to encourage parents to switch to cloth nappies instead. In fact, some are so eager for us to ditch the disposables they're offering £70 cash as an incentive.
If £70 in your pocket isn't enough to tempt you, how about £700? It's estimated that's the total amount saved per child if you swap to reusable nappies, not a figure to be sniffed at, I think you'll agree.
But if you're not won over by the savings, and the environment argument doesn't grab you either, then just go and take a look at those pretty nappy covers I told you about. They were the real deal-breaker for me. Who can resist purple and blue stars? They're so trendy I'm now wondering if they do the pants in a mum-sized version.
You can find out more about Real Nappy Week at Goreal.org.uk.
(Flickr image credits: simplyla, MissMessie, 114bberry.)