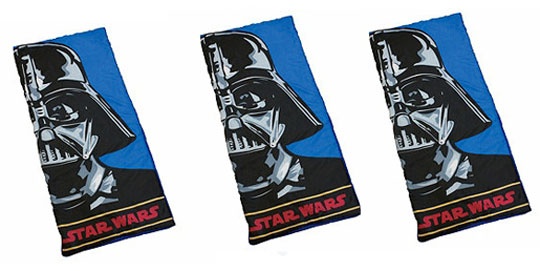 Tesco are selling a summer Star Wars sleeping bag for £6.50 - if you have a little Star Wars fan in your family then you might want to pop over to Tesco and grab one whilst they still have some in stock.
My youngest son is a massive Star Wars fan and is just about at the stage where he's going to want to go and stay over at friend's houses and have them come to stay with him.
I remember the first few times the Teenagers went away on sleepovers to friend's houses - both of them were much happier taking their own pillows and duvets, it just made them feel more at home.
Pillows are nice and straight forward - and I don't blame them, there are few things worse than having to sleep on uncomfortable pillows, or finding there's only one when you're used to two - but duvets can be a bit cumbersome, so a lightweight sleeping bag, like this Star Wars sleeping bag, can be an ideal solution.
This one is made from polyester, comes in its own carry bag and can be thrown in the washing machine as and when necessary; marvellous.
You can arrange to collect your Star Wars sleeping bag for free at the Tesco store of your choice, or you can pay their new, cheaper, £3 standard delivery fee and have them drop it off to you.
Thanks to Donalcamo