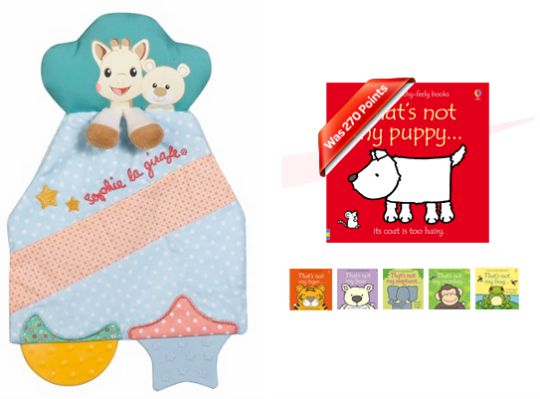 I am sat here raging with myself right now. Why? I did NOT know that you can save up points off of the back of Johnson's Baby Wipes and redeem them for baby items. Think of all the Baby Wipes Packets I have turfed in the bin over the years. I would have been a flaming points millionaire.
If you already knew, or have stacks of baby wipes get them out and enter those points in. Johnson's Baby Club have 70% off some of the items that you can buy with points. Be quick though as these reductions are only for another two days as it ends on 31 July.
Here's some of what you can get your mitts on: 'That's Not My...Books' was 270 points now only 70, Personalised Hooded Baby Towel was 420 points now 110, Sophie La Girafe Teething Comforter was 360 points now 70 and Floatee Bathtime Book was 210 now 50.
Even if you won't be able to accrue enough points for this offer this time. It's an ongoing thing however, you will have to use more points for those baby items. Now you know that you can get those baby goodies just by entering the points of something you buy anyway.
To find out how many points you get per packet, click here.
Thanks to billbennett1 @ HUKD