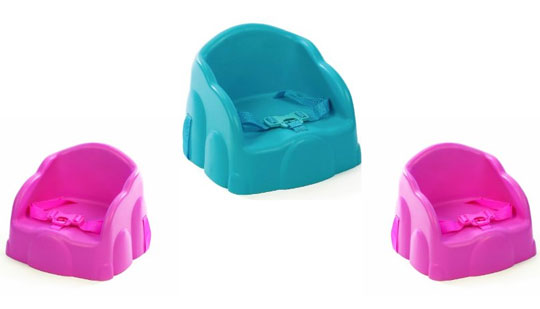 Amazon are, for the moment at least, selling these Safety 1st booster seats for £8 instead of their usual £13 and are available in both pink and blue.
If you're really tight for space at home then something like a Safety 1st booster seat can be a GREAT alternative to a high chair.  They're also handy for keeping at the grandparents house or if you go out to eat a lot - high chairs in restaurants can be a bit hit and miss.
In fact, they can be downright disgusting and the germs lurking on them just doesn't bear thinking about - I'm all for a bit of a dirt to build up immunity but even I wouldn't put my kids in the some of the high chairs I've come across in my time!
The Safety 1st booster seat is a solid seat that you place on a normal chair seat and secure it with straps that wrap around and do up underneath it.
It's easy to clean, easy to take out and about with you, has a three-point safety harness and is suitable for little ones aged about six months old.
Thanks to jmcderm1 at HUKD