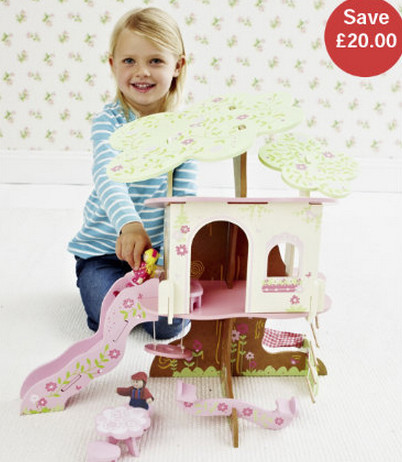 The lovely wooden Rosebud Village Tree House and Playground from ELC  is reduced to half it's original £40 RRP and is now selling for £20 and there's currently free delivery in four days from ELC to all UK mainland addresses too.
This Rosebud Village Tree House and Playground is such a gorgeous play set! It has all the elements needed for imaginative play, and is absolutely gorgeous to boot.
There's the house and play area, which comes with a rope ladder, hoop swing, see-saw and slide.
Aside from the play area, there's also a picnic table, four stools, two dolls and a hammock for relaxing in. Your child can sit the dolls at the Rosebud Village Tree House picnic table for a tree-house feast, or bring them outside for a woodland picnic.
I'm soooo tempted by this gorgeous set, which ties in gorgeously with the rest of Rosebud Village. I know my girls would love it!