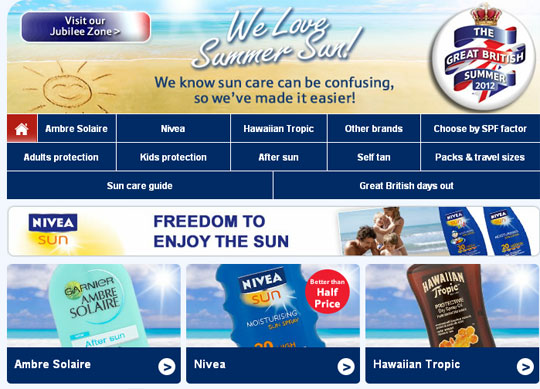 Just in time for the warm weather, Tesco have some 'better than half price' deals across the main sun protection brands; hurrah!
Well, it couldn't stay cold for EVER now could it!  And as usual the people who were complaining it was cold, just a week ago, are now stating that it's tooooo hot, that they can't sleep because it's sooooo hot - honestly, there's NO pleasing some people.
Whether you're a Nivea Sun fan or an Ambre Solaire devotee, there are sunscreen bargains up for grabs at Tesco.  I'm very glad to see this, all sun screen/sun cream/sun lotion (whatever you want to call it) is expensive and I think that's wrong!
You can't help but wonder how many kids get exposed to the sun without adequate protection because of the huge dent in your budget sun cream can make?
You can easily filter all the sun protection products by clicking the tab for your chosen brand, SPF, whether you want protection for adults or kids and don't forget After Sun too (this was, and still is, my favourite sun cream of all, they always smell and feel so nice!).
I'm not sure whether these half price sunscreen deals apply in-store - but I'm going to Tesco later, so I'll have a look-see and let you know.  In the meantime, the web offers are available until 4 June.
Happy staying safe in the sun!