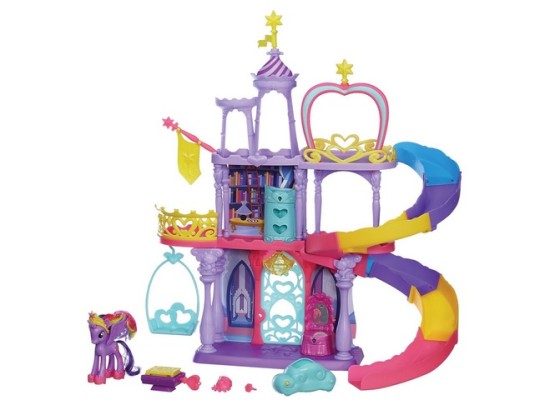 Amazon are selling My Little Pony Twilight Sparkle's Rainbow Kingdom for £21.79, reduced from £39.99.
Click here for Twilight Sparkles' Rainbow Kingdom from Amazon*
The reviews on this product are pretty divided between adults and children. The children seem to love it - no surprises there - while the adults don't think it's particularly well made, and that it falls apart too easily for their liking. What that says to me is that my kids will love it, and I'll buy some superglue with it!
The castle comes with a special edition Princess Twilight Sparkle figure. Little ones can dress her with shoes, skirt, tiara and a bracelet.
It also comes with secret keys that 'unlock surprises' and the pony can sit in the slide car and go down the castle's slide.
It's definitely one of those things that's for fans, and not their parents, but I know for certain my kids would love it!