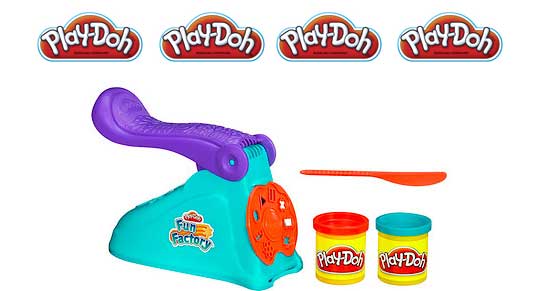 Head over to The Entertainer and you'll be able to pick up a Play Doh Fun Factory for half price - £5 instead of £10.
When I was at infants school (and yes I CAN remember that far back, thank you very much!) I had a friend called Tanya Perkins.  I  used to go to her house and we'd play with her Play Doh; I have two enduring memories from those times:
1) Her mum got REALLY cross with us one time because we got Play Doh stuck in her best carpet; and
2) Play Doh smelled like marzipan (and I didn't like marzipan)
I don't remember there being all these fun factory bits and pieces back in 'the old days', maybe there were but Tanya just didn't have them - according to my nearly 17-year-old daughter we were 'old skool' with just tubs and having to make things for ourselves.
But things have moved on, Play Doh has become more 'advanced', and if you've got a Play Doh Fun Factory you can do all sorts of new and 'modern' things (Elise thinks it's very funny swiping at me for being 'old fashioned' - she never had Play Doh at home you see, I was mean!)
Standard delivery will cost you £2.95 unless you live locally to an Entertainer store, in which case you can pop in and collect your Play Doh Fun Factory for free; hurrah!
Thanks to Jenniejenjen at HUKD