 Most meerkats live in large underground tunnels which they only leave during daylight hours. This particular breed, however, prefers to be cuddled by the smaller members of the human race at any time of the night or day. Costing only £3.99 from Play.com (including free delivery), this is one deal that makes you say...Simples!
Whether you're a new fan of the meerkat race thanks to a popular ad campaign, or you just love the idea of giving your child a cuddly little meerkat to play with, this is an ace deal. I adore these furry little creatures and used to be quite addicted to the TV show that followed some meerkat families around Africa.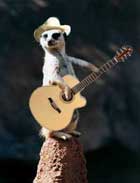 I can't remember for the life of me what that show was called, but it had me hooked. I remember shouting encouragement at the screen and being genuinely gutted when something bad happened to one of them. Just fabulous. Anyway, this little guy has found a home with us. Don't you think you should save a meerkat today? Go on, make a little space in your home.
Thanks to millarcat at HUKD!