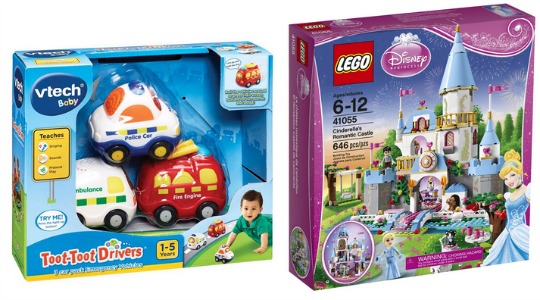 We've been getting lots of reports about people finding fantastic toy bargains in Tesco stores that are not reduced online. It's happening all over so it's not just one store clearing out the stock room, but we can't guarantee that your local store will have them. If you are there doing your shopping it's well worth having a look in the toy section to see what you can find as some are finding things at 75% off.
EDIT: Looks like there have been further reductions in stores, so the top of the list is the new reductions, almost all are 75% off!
Here's what's been found so far:
Fisher Price Little People Disney Princess Songs Palace - £12
Sofia The First Talking Clover - £5
Cabbage Patch Doll - £8.50
Giant Peter Rabbit Soft Toy - £5
Toot Toot Deluxe Safari Set - £7.50
Toy Story Talking Woody - £17.50
Toy Story Talking Jessie - £19
Vtech Play Cube - £12
Imaginext Gotham City Jail - £7.50
My Friend Cayla - £15
Mr Tumble Get Up And Go Playmat - £5
Olaf Frozen Tea Set - £3.75
Doc McStuffins Walk N Talk - £12.50
Tramsformers Stomp & Chomp Grimlock - £21
TMNT High Flying Blimp - £10
Zoomer Dino Robot - £22.50
LeapFrog Reader - £10
Robofish & Bowl - £6
Flutterbye Light Up Fairy - £10
Baby Annabelle Car Seat - £5
Fisher Price Rocking Giraffe - £12.50
Fisher Price Laugh & Learn Puppy Train - £8.50
Fisher Price Smart Stages Crawl Around Car - £20
Ugglies EPet - £7.50
TMNT Shellraiser - £7.50
Little People Big City Skyway - £10
Lego City The Essential  Book Collection - 1p (found in Coventry branch)
Book Gift Collections: 1D, Doc McStuffins, Lego Friends, Aliens Love Underpants, Esio Trot - £2 each, should be £5.
Career Barbie Playset - £6, was £25 ( Rochdale)
Talking Minion Dave - £15 (Ashby De La Zouch)
VTech Toot Toot Drivers 3 Pack Emergency Vehicles - £7.50
Leapfrog Leapband - £12 (Aberdeen)
Lego Disney Princess Set 41055 - £30, should be £60.
PullBack Disney Cars Figure - £5, should be £10 (Chelmsford)
If it's only been confirmed in one store the location of the store is listed to give you a fighting chance of finding one, but some of these reductions have been found in lots of stores.
We're not suggesting you rush out and try your nearest Tesco now, as there may be none there and we don't want you to waste your time, but we'll be keeping our eyes open when we're next in store.
Let us know if you find any of these amazing toy clearance bargains! Good luck!
Thanks to Gemma on Facebook, and clp81, Oneday77, rebeccatomlin988, Dolly_Daydream, deliawarren, delly123, sinead84, kmouse, babyblue, Alfie2K13, Vic82, Odd8a11, Oneday77, Gavhtid on HUKD.