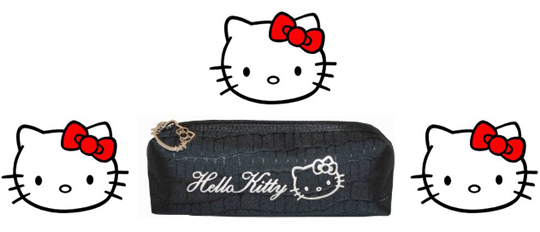 It always surprises me how many grown up fans Hello Kitty has!  If you're an adult HK fan then this deal is just for you on this bright and shiny, brand new Monday morning!
I suppose you could use this Hello Kitty Rock Chic cosmetics pencil case to keep other bits and pieces in, I'm assuming there's no law stating it MUST contain make-up pencils...
It's quite understated and very NOT pink for anything Hello Kitty though, so you may have a bit of trouble convincing a five-year-old Hello Kitty fan that it's any good, but you never know!
So, the Hello Kitty Rock Chic cosmetics pencil case is black, has a Hello Kitty logo in silver on the side and a metal zip pull in the shape of Hello Kitty too (you clearly can't have too many Hello Kitty embelishments on one item!).
It's made of a leather type material (PVC?  It doesn't say) and is wipe clean both inside and out - great if your lip gloss happens to leak every where.
This review from a 40-year-old HK fan sums up this Hello Kitty Rock Chic cosmetic pencil case rather nicely I think...
"Bought this case to hold my makeup in and leave it in my handbag. It fits quite alot in, from a foundation bottle,blusher, lipsticks and other bits and bobs. Fits nicely in my handbag too. The case looks lovely, not cheap and tacky looking and has a lovely colour purple liner inside, Zip is also pretty cute too. I'm 40 and don't think it looks to girly, but I love Hello Kitty. Hope this helps."
The usual price for this Hello Kitty Rock Chic cosmetic pencil case is £8.00, so it's a little bargain at (for now) £2.43.
Thanks to wishihadadonkey at HUKD