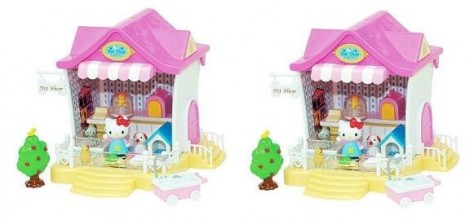 There's 30% off the Hello Kitty Pet Shop Playset at Amazon this week, saving you £4.49. There are actually a few playsets in this range with up to 38% off, including a cake shop and picnic set, but there are very low stock levels for those.
The Hello Kitty playset range is a great alternative to other  pocket sized toys and this pet shop playset is no different.
The pet shop playset contains a Hello Kitty figure, as well as six pet figures- dog, cat, hamster, tortoise, bird, and rabbit -  and eight accessories – trolley, tree, kennel, bird stand, feed bowl, cat basket, animal case, shop counter and till.
The parts are small, which the reviewers cited as a bonus as these are pocket toys, after all, but it does mean they can easily go missing.
Bare in mind that this isn't a play house, as such. It is only 14cm high (about half an A4 page) and 11cm wide and deep, but it has five star reviews and the kids apparently love it.