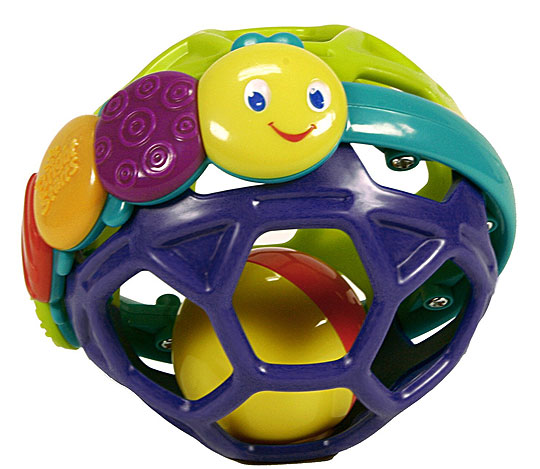 If you're after a cheap, but not useless piece of tat, pressie for a young baby then this Kids II Bright Starts Flexi Ball might be worth taking a look at - Amazon are selling it for £2.58, at the moment, rather than £3.99.
This Kids II Bright Starts Flexi Ball is a funky-coloured, noisy toy that will be very easy for young hands to grip and shake around.  The bright colours will stiulate their visual senses, and the ball inside will rattle, when they shake their ball, and stimulate their aural senses.
Once baby is on the move they'll be able to throw their Kids II Bright Starts Flexi Ball away, then crawl after it.  You (or their parents, if you're giving it as a gift) could also play roll-across-the-floor to reach other, until they're coordination is up to playing catch.
Reviews are great; here are some for your decision-making delight:
My 3 month old baby girl really enjoys playing with this ball. She has just started to hold her toys and the bars on this ball are thin enough for her to hold. Initially i was disappointed with the size but it's actually just right for little hands!

This is a really good little toy for young babies. I have let my nephew Alfie play with this and he loves it, he laughs grabs at it and tries to stretch to reach it. It's a good quality toy, made by a reputable company and I would recommend this to anyone with a young baby.
All of the usual Amazon delivery options are in force with this deal - so free if you can wait for a three or four days (at the most, usually) or faster if you grease Amazon's palm with a little bit of extra cash!
Thanks to wishihadadonkey at HUKD