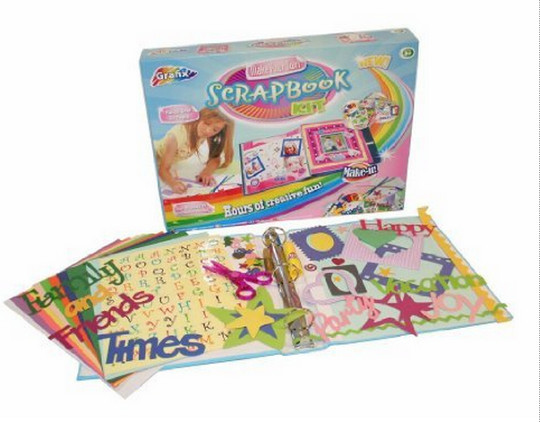 The summer's not over yet, and there's still time for a little crafting fun - and let's face it, if you ask your toddler, any time is crafting time! The Grafix Scrapbook Kit has 25% off  at Amazon, selling at £9 instead of £12. (Is it too early to mention that it might be a good stocking filler too? Come on, 'fess up! Who has Christmas 2012 sorted already?)
There's just one review of this item, and it's far star. The reviewer says it's a great product and good value for money and that there's the option to add the 10 extra pages, which is useful.
There are 180 pieces in this craft kit to help you display your favourite clippings, photos, notes, tickets and mementos that just don't have a home anywhere else - perfect for things like Olympics tickets!
There are 20 sheets of white paper, 10 sheets of coloured card, three sheets of double sided printed paper, 12 die cut shapes, a clear glitter glue, 15 frame tags, 32 borders, 10 title die cuts, a self-adhesive sticker sheet with 70 letters and pieces of small punched shapes. There is also a pair of decorative edged scissors which will last after all the rest is used up, and conveniently, it includes a glue stick.
If you're short of imagination, there's also an instruction sheet.
All you need to add is some photos and it should be hours of fun.