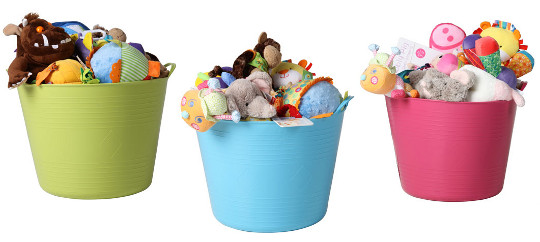 Kiddicare.com have a great offer on blue, green and pink flexible tubs, which they're selling at £3.99. They don't say what size they are, but having a browse on Amazon, these normally sell at around £6 - £20, so the RRP of £9.99 isn't too far off. Buy more two and you'll get them for £3.96 each, and buy 3 or more and they'll cost you £3.92.
It's taken me almost three years in this parenting journey to come to the realisation that tidy doesn't mean everything in it's pre-ordained spot on the shelf, and that trying to maintain such a standard is futile and exhausting. I've only recently discovered the joys of tubs, baskets and toy boxes, and how much easier it is just pile like items together in a basket or tub. Honestly, why didn't anyone point this out to me earlier?  I also think it helps with tidying up time, as putting each soft toy, for example, in a line nice and neatly is probably quite daunting for a three year old. Popping them haphazardly into a tub, however, is fast, a lot more fun, and perfectly satisfactory.
A few of the reviewers mention that this tub is also perfect for laundry - I can see that! I think it would be a great nappy storage basket too. With one child I used to have time between nappy washes to fold and stack them all, now I'm lucky if they make it to the drawer before being used again!
Thanks to margenebaby at HUKD