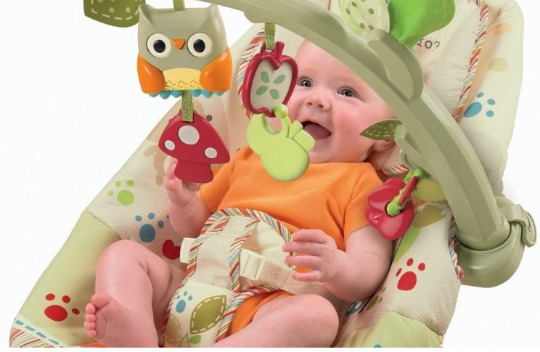 This Fisher Price Woodsy baby bouncer is a serious bargain at Amazon right now - reduced to just £17.99.
This lightweight bouncer has a deep seat design to keep baby feeling secure and cozy, and its main feature is a vibrating setting (requires 1 AAA battery and 1 D battery, which aren't included) to jiggle baby off to snoozeville. It also comes with an easy-to-remove toy bar with a musical owl attached, plus non-skid feet and a secure three-point restraint. The seat pad is completely washable too.
This item has scored 4.7 out of a possible 5 stars, and here's a fairly typical review from an Amazon customer, to give you an idea of what people make of it once they've bought it:
"This chair is a godsend! Our little princess (6 weeks old) suffers from reflux so I try not to lay her down too much, but when needing to go to the toilet or cook dinner etc I have to. She then gets upset and I end up trying to do everything while carrying her… pretty exhausting! Well, like I said in the title, magic chair!! Not only can I put her down in it while doing bits around the house, but she also loves it!!! She will happily sit in it for ages playing and talking to her new little owl friend. Plus, she falls to sleep in it too... what else can a mum ask for! A very very happy customer and i can not recommend it enough!! It looks dead comfy because the seat part is pretty deep and the material and head rest is solo soft. I wish they made one for adults!"
A few hours ago the price was right down to £17.99 but presumably it has crept back up again due to popular demand - so if you're in the market for one of these then it's probably best to snaffle one before the price shoots up again.
With thanks to fweedster @ HUKD