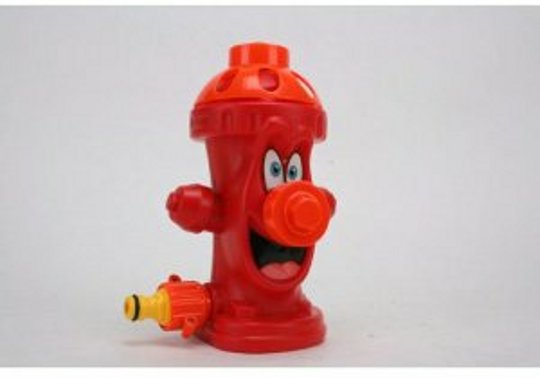 The Fire Hydrant Water Sprinkler, or 'Splashy' as he's referred to at WHSmith is reduced from £5.99 to £3.59. He's currently over £8 excluding postage at Amazon, so it seems a pretty good deal.
Okay, I know you don't believe me, but it is in fact summer – we had our heating on again last week! – and soon, really soon, I hope, we'll have children running around the garden in costumes again.
I remember something similar to this as a kid – Willie Waterbug, he was called, and his stripey 'hair' used to spray water all over the garden. It was heaven for us on hot, humid days. We loved it.
The Fire Hydrant attaches to any hose with the included adaptor, and sprays water a good 2.4 meters, making for fun running and splashing and ducking and diving.  The water from his head sprays everywhere, and lots of gleeful screeching should follow.
There aren't any reviews on WHSmith, but one on Amazon, and it's glowing. The reviewers son loved it, and as he said 'Hours of fun for a very cheap price".
I'm not sure how many hours of additional water my swamp lawn can handle, but at least the kids will be occupied and having fun in hot weather!
Thanks to wishihadadonkey at HUKD