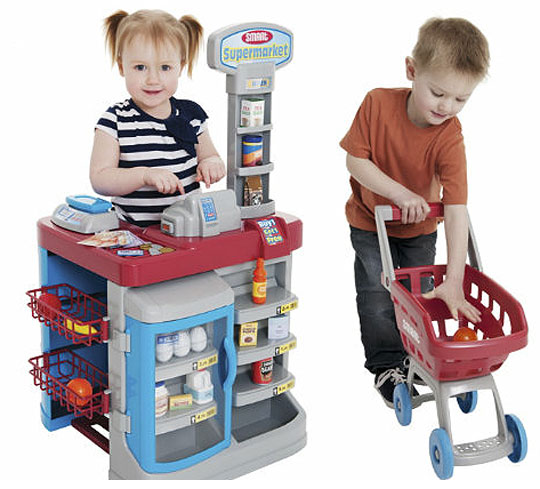 The Early Learning Centre are selling this Supermarket and Trolley role-play set for half price - £30 instead of its original £60.
Now whilst I know there's nothing wrong with being a checkout person, I can't help thinking it's not a lifelong career that anyone actually aspires to...
Careers advisor: SO, Sarah, what career would you like to have in the future?
Me (I can't write in the third person, it's just too weird): Well...I can really see myself on the tills at Tesco!  
It was NEVER going to happen; that said, I did have various Saturday jobs in shops and always loved being on the tills - I think it's because I didn't have a toy checkout when I was little.
Along with a bit of shopping role-play fun, this Supermarket and Trolley set will help your child get to grips with numbers and using a calculator - there's no scanning bar codes here, it's back to the old school way of punching in the numbers to add up the shopping bill.
And just to sweeten this deal a little more, it qualifies (at the moment) for free next day delivery (which will be Tuesday 19 June now, as it's the weekend) which is worth £7.95; how marvellous!
Thanks to clbrophy20 at HUKD