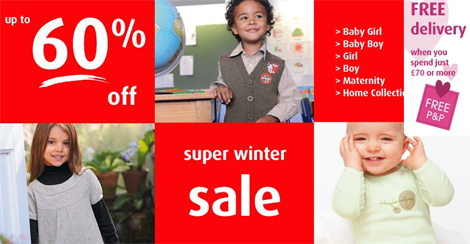 Kids! They do insist on growing and replacing entire wardrobes at least twice a year and can seriously damage your bank balance.   I know it's the middle of winter, and warm weather feels like the stuff of myth and legend. But spring isn't far away and t-shirts and shorts will soon be the order of the day, so a virtual wander around Vertbaudet this weekend could pay off.
Here are the ways to save cash when you get there:
Option 1 – sign up for the Vertbaudet newsletter and receive a code, by email, giving you 20% off your first order.  I did this today and my code is valid until 31/08/10 on full price Spring-Summer 2010 Collections.
Option 2 – shop in the SALE and get up to 60% off a large range of boys, girls and baby clothes.
Option 3 – enter code 3453 at the checkout before MONDAY 18 JANUARY 2010 and receive 20% off the first thing you put in your basket (so make it a good one!) and you'll get a cuddly jungle kid's sleeping bag free.
Standard delivery is £3.99 and free if you spend over £70 which, if you're like me, isn't going to be difficult but with the discount savings there's going to be quite a lot to show for your money!