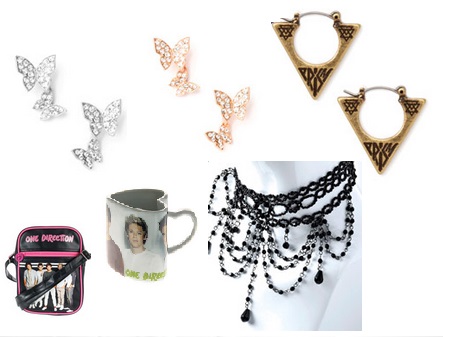 There's never been a better time to stock up on stocking fillers, pass the parcel gifts, or other cheap and cheerful tidbits at Claire's Accessories. The clearance section has loads of items starting from 50p on sale, and when you get to the checkout there's an extra 30% of too. If you happen to fancy something from the full price section, you'll find 24% removed from your total on those at the checkout too, which makes for some pretty decent savings.
The extra 30% off is online only, so you won't find these prices in store.
Delivery is free if you order over £21, but otherwise is £1.99, which is the same price as click & collect.
Over on HUKD people are telling us that they've picked up things like 3 One Direction Mugs for £1.65 (£9 each reduced to £1.50 combined with the 3 for 2 offer and 30% off), or a One Direction bag reduced from £18 now £4 and an extra £1.20 off at checkout, making it £2.80.
If the boy bands aren't really your thing, there's also jewellery and accessories to choose from. At £5 a set they're okay, but at 3 sets for £7? Well, you can afford to treat someone! That's £5 each, with 3 for 2 makes it 3 sets for £10, minus 30% gives you a total of £7.
Thanks to babyblue at HUKD