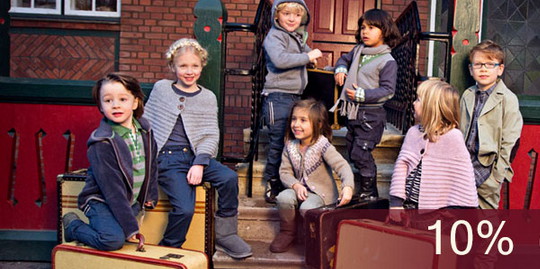 There's 10% off children's clothing at Little Beau using the code below. There's also free delivery to all UK addresses. I must admit, an offer that includes free delivery always catches my interest a little more than it otherwise would!
Prepare for cold and wet weather
Discount: 10%
Expires: 15 October 2012
Exceptions: none - also works on sale items
Discount Code: lboct10
With lots of rain and cold weather predicted over the next few weeks, Little Beau put together some fantastic coats, umbrellas and warm clothing to help you keep your little one nice and snug! They are also offering you 10% off all orders received up to midnight on Monday 15th October.
The code also works on sale items, so you can get some summer goods at fantastically reduced prices, or you can - if you're lucky - pick up some wet weather gear. When I tried it there were still a few umbrellas, but stock was quite low, so get in there quickly.  There's some stunning wet weather gear though - enough to keep your little ones warm and cosy as you're out and about this autumn.