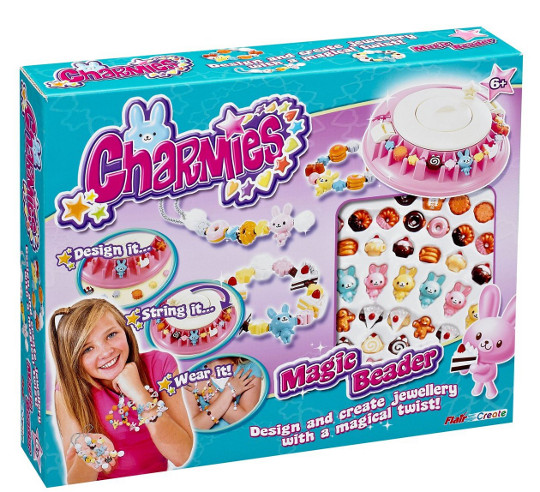 Charmies Magic Beader Sets are on sale at Amazon for £5.72 right now. Their price has jumped around all over the place today, and they've gone from £5.64 to £11.64 and almost back again. HUKDers have picked them up elsewhere for £14.99 and they're currently £9.99 instore at Smyths Toys (or £14.94 delivered), and £19.97 at both Tesco and Asda.
With this bit of kit, children aged six and up can design their own stylish bracelets, necklaces and key chains. The set comes with more than 50 different beads. Young designers can chose which ones they want to use, then load the Magic Beader with the Charmies of your choice, and simply twist the Magic Beader to string your beautiful design together. Secure your creation with the clasps to complete your design.
The Charmies Magic Beader includes a magic beader, 2 metres of string, 2 key chains, 23 large Charmies beads, 28 small Charmies beads and 8 Charmies end beads.
The reviews on this are extremely mixed, however, with some loving it and some saying it's totally rubbish, but in the end, at the price, they seem to be going really and many little friends can expect to find them in their birthday gifts this year!
Thanks to Wishihadadonkey at HUKD