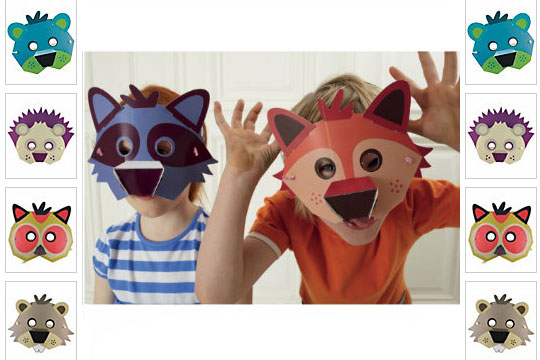 The Early Learning Centre are selling eight cardboard animal masks for £2.50 instead of £5.
My youngest's birthday is in July; last year he had an outdoor party in the park, complete with music, bat and ball games, beat the goalie and a bouncy castle.
The same is planned for this year except he's having a Science Party - he knows about the science bit but he doesn't know the theme is going to be rockets; the Rocket Scientist party scientist (who really is a scientist) is going to be showing the kids how, and helping them, to build rockets which they'll launch up into 'space' at the end.  Both me and Edward's dad are watching the weather VERY closely as you can imagine.
Now all of that has NO connection with these eight cardboard animal masks at all, except for the party element - if you've got a birthday party coming up and are stuck for a theme idea then how about an masked animal ball?
Each child gets given an animal mask on arrival and you can have animal themed party games - pin the tail on the donkey (or any animal that has a tail for that matter), Sleeping Lions instead of sardines and that sort of thing.
Nice and cheap, nice and easy and all kids love wearing masks; brilliant.  Free delivery is finally available from the Early Learning Centre (and not before time!) and takes four working days.
Thanks to wishihadadonkey at HUKD