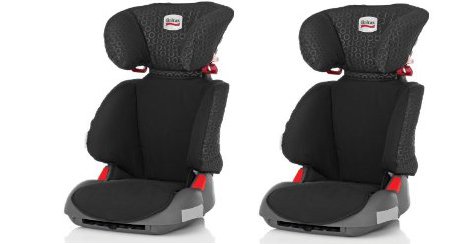 Kiddicare are selling Britax Billy high back booster car seats for £29.49, rather than £60.
This is the very seat that my youngest has in his dad's car and they both think it's awesome.  It's lightweight, it's comfortable (Edward says so) and it's standing up admirably to at least three years of general car seat abuse!
It's suitable for kids aged between four and 11 years old and has all the safety features you'd expect, and want, from a Britax car seat: side impact protection, adjustable headrest, seat belt guide so it sits properly over the shoulder and the seat is shaped correctly to ensure the seat belt also sits comfortably across the lap.
It's the owner of a Mother and Baby gold award and is so ridiculously easy to move from one car to another, you'll wonder how you ever managed with the much heavier, chunkier earlier stage car seats that went before. They're also cheap enough, at this price, to be able to buy two - one for your car and one to live in the boot of a grandparent's car.
Kiddicare have a whole array of delivery options - depending on how much your order comes to, when you placed your order, where you live, what your inside leg measurement is (okay, I made that last one up) so the easiest thing, by far, is for you to read through their delivery spiel yourself - it's HERE.
Happy portable car seating!