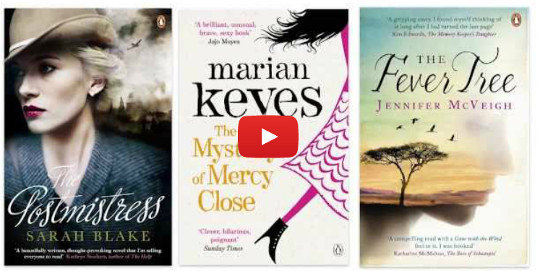 Breakthrough Breast Cancer has teamed up with Penguin and WHSmith to launch the new and exciting Read Pink. Make a Difference campaign. They're selling the books listed below in a two-for-one offer, with a donation for each sale going to cancer research.
Throughout the eight-week campaign they're encouraging you to head down to your high street and pick up one of the selected women's fiction books by bestselling authors including Marian Keyes, Sue Townsend and Jojo Moyes.
Each of the Read Pink titles carry a 50p donation to Breakthrough's life-saving work and, with holiday season around the corner, there's no better time to get involved in Read Pink. Make a Difference as WHSmith is offering a "buy one get one half price" promotion on the titles.
Books available in the offer are:
Belle - Lesley Pearse
Stolen - Lesley Pearse
Trust Me - Lesley Pearse
The Promise - Lesley Pearse
The Help - Kathryn Stockett
Foursome - Jane Fallon
The Ugly Sister - Jane Fallon
The Patchwork Marriage - Jane Green
Mr Maybe - Jane Green
Accidental Husband - Jane Green
The Mystery of Mercy Close - Marian Keyes
Anybody Out There - Marian Keyes
Sushi For Beginners - Marian Keyes
Rachel's Holiday - Marian Keyes
The Seamstress - Maria Duenas
The Postmistress - Sarah Blake
The Girl You Left Behind - JoJo Moyes
Me Before You - JoJo Moyes
Lake of Dreams - Kim Edwards
The Memory Keepers Daughter - Kim Edwards
Secret Life of Evie Hamilton - Catherine Alliot
A Rural Affair - Catherine Alliot
One Day In May - Catherine Alliot
Between A Mother & Her Child - Elizabeth Noble
The Way We Were - Elizabeth Noble
The Friendship Test - Elizabeth Noble
What The Nanny Saw - Fiona Neill
The Fever Tree - Jennifer McVeigh
Women Who Went To Bed For A Year - Sue Townsend
Pieces of My Heart - Sinead Moriarty
Unfortunately you have to pop down to the store, but it's for a good cause, so it's worth it.