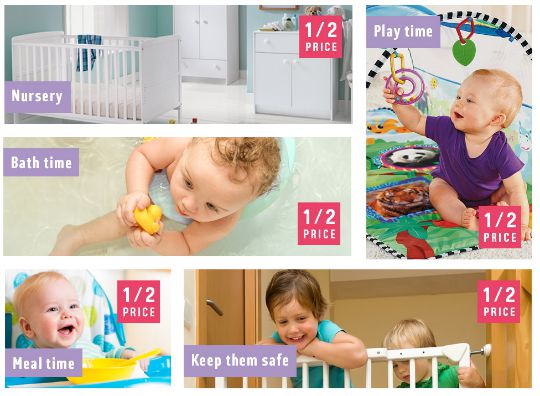 Well, wouldn't you know it, you wait ages for a Baby Event and then they all come along at once! The Tesco Baby and Toddler Event finishes on the 23rd August, we told you earlier that the Asda Baby Event starts this Saturday 22nd online, and the Argos Baby Event has started today!
Although the Asda one is the biggie that usually has the most and the best offers, Argos have some fab deals too, you just have to root a little more. But to save you the task here are our top picks:
Angelcare Nappy Disposal System* - was £14.99, now £7.49
Fisher-Price Fun to Learn Potty* - was £46.99, now £23.49
Baby Feeding Pillow* - was £13.99, now £6.99
BabyStart Single Panel Metal Wall Fix Safety Gate* - was £12.99, now £9.69
BabyStart Extending Metal Wall Fix Safety Gate* - was £15.99, now £12.79
BabyStart Cot* - £47.69
Fisher-Price 3D Animals* - was £7.99, now £3.99 plus Free Delivery.
MAM Bottles, various packs, half price plus free delivery.
Obaby Tour 3 Wheeler Pushchair* - was £119.99, now £52.49 plus Free Delivery.
Gro Anywhere Travel Baby Blind* - now £17.99 with Free Delivery.
Summer Infant Slumber Buddies (various designs) - £12.49 with Free Delivery.
Lamaze Toys, various designs, Save 1/3
Kinder Valley Moses Baskets, several designs, Save 10% plus Free Delivery.
East Coast Nursery Combination Highchair* - was £84.99, now £59.49
There are loads more items in the Argos Baby Event as it is a really big one this time, but you do need to do a quick price check before you buy, at least on Amazon, Asda and Tesco as with the other baby events on and the Amazon habit of price matching the lowest you may still find things cheaper.
The items I have listed above I cannot find cheaper elsewhere, and some of them are fantastic deals, like the cot for less than £50, and the safety gates for less than £10.
It's definitely a good time to be buying baby and toddler supplies, and all the competition between baby events seems to bringing prices down all round!