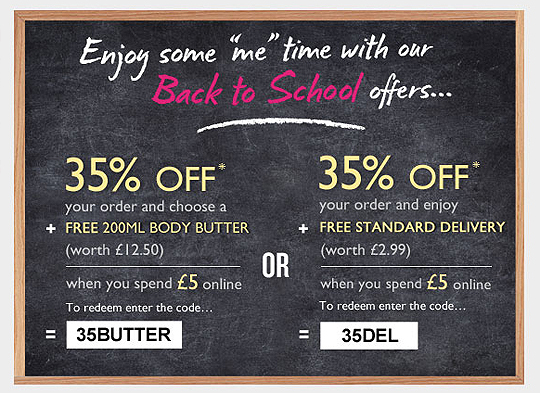 If you spend over £5 online with The Body Shop then they'll take 35% off your order and you can choose to either have free home delivery (worth £2.99) or a free 200ml body butter (worth £12.50) thrown in for good measure too.
There is only one problem with this Body Shop promotion and that's choosing what to order without spending an absolute fortune in the process!
There are so many Body Shop things that I love and, now I think about it, now might be the best time to stock up on them all - this 35% off your order, plus free delivery or body butter, offer ends at midday on Monday 10 September.
If there's nothing you need from the Body Shop then you could buy a few bits and pieces to wrap up and give to various friends and family members at Christmas (look, we're a quarter of the way through September, talk of the C word is fair game now!), particularly if they have a favourite Body Shop something.
Now, if you want to claim the free body butter then you need to add it to your basket and enter code 35BUTTER into the promotion code box in your basket.
If you couldn't care less about body butter and would like your order delivered for free, you need to enter code 35DEL into the promotion code box.
Don't forget, the codes expire at midday on Monday!
Happy Body Shopping (oooh, that sounds a little sinister *gulp*)