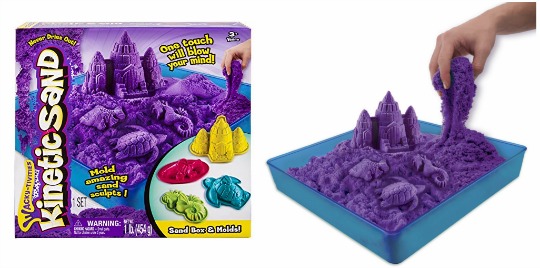 This Kinetic Sand Box Set is super popular right now and is on so many Christmas lists this year. If it is on your little one's Christmas list you will be pleased to know that Amazon have just dropped the price on the Kinetic Sand Box Set from £21.80 to just £14.59. Be quick as this is sure to sell very quickly at this price!
I am very tempted to get this for my daughter for Christmas, I am so sick of finding play-doh stuck to everything and I mean everything! It drives me mad!
The kinetic sand is supposedly a lot less messy as it sticks to itself rather than surfaces and is therefore much easier to clean up and as an added bonus it never dries out. Within the set you get 1lb bag of purple sand, 3 molds and a sand box to keep the sand contained.
It's more fun when it's Wacky! Kinetic Sand is the squeezable sand where you can FEEL the fun! You've seen it before, but you've never felt anything like it! Pack it, pull it, shape it and love it, Kinetic Sand is so incredible you can't put it down. Now with the Kinetic Sand Sandbox, kids can play on a large play surface while containing the mess! Mold amazing sand sculpts and have endless hours of fun with the Kinetic Sand Sand Box! For ages 4 years and over.
Home delivery is free if you spend over £20 or are an Amazon Prime member otherwise delivery starts from £3.30.