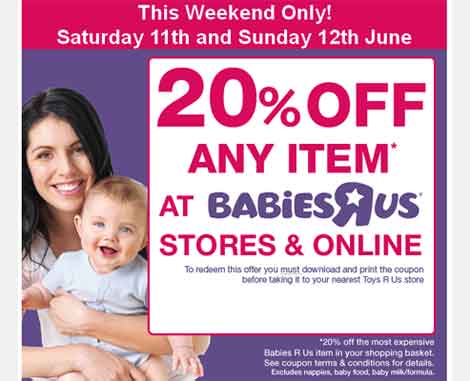 To make sure you get this 20% off at Babies R Us this weekend (it's only running for this weekend) you're going to have to pay attention to the small print.
There's a fair bit of small print too so here goes...
You can use this voucher online AND in-store - if you want to use it in-store then download it and print it off, if you want to use it online then there's a code for you to use on the voucher.
Now I know it says '20% off any item' but there's that little * at the end which tells you that's not actually true.
You can't use the voucher for buying nappies or baby milk.
You can't use the voucher to buy ANY toys and you can't use it on anything that' s NOT Babies R Us.
Now I haven't been to Babies R Us for a while so I can't remember how much of their own branded stuff there is - the thing to do is make very sure that you have a Babies R Us something before you head for the checkout, real or virtual.
The good news is the 20% discount applies to the MOST expensive item, rather than the other way round and whilst it says the vouchers are limited to one per customer or family group it doesn't take a genius to figure a way around this if you must.
You can use the click and collect service too but you must pay for it before close of business tomorrow.
Even with all the exclusions, I hope this 20% off at Babies R Us helps one or two of you out this weekend.
Thanks to shadow1 at HUKD