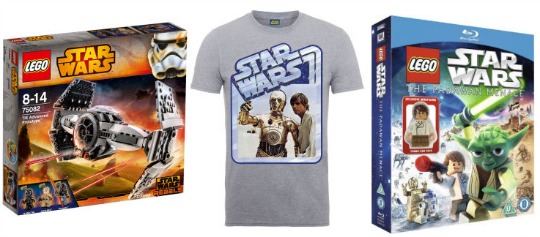 It seems the whole world has gone a bit Star Wars mad with the release of the trailer for the next movie due out at Christmas. Having a new trilogy of films in the franchise, then one a year after that means that a whole new generation is going to go Star Wars crazy. There are an awful lot of grown up fans out there, and many of them will be needing Fathers Day Gifts soon as well!
Right now Zavvi have an offer of 10% off when you spend £30 on Star Wars, and they have free delivery on everything as well. There are fantastic Pop Vinyl figures from £10.99, T-shirts, Blu-rays, action figures, and even Star Wars Lego is included in the offer!
There's no code to enter, the discount is automatically applied at the checkout. If your house is anything like ours you could grab a few gifts in one and get the 10% off. Hubby would like the retro Star Wars t-shirts, so that would be Fathers Day organised from the kids, and my eldest is Lego crazy so spending £30 shouldn't be too hard!