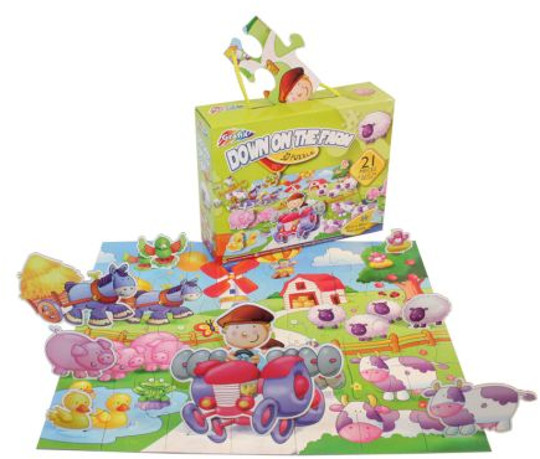 I bought my daughters the Grafix 3D Down On The Farm Puzzle (£4.50)  - recently, and it is such a cute puzzle, I've been back to buy more for gifts.
The Puzzle itself is a 21-piece jigsaw with large, long puzzle pieces. The colours are bright, bold and fun, and it's a really nice image. My 3 year old builds it, then breaks it up and builds it again. It's a really nice puzzle, with easy to hold pieces that are also easy to put in place and keep there.
What's really fun about this puzzle though is that it has a 3D element. So, once you've built the puzzle, you'll find there are some of the pieces that have a little slit in them - unless you're proactive and find those puzzles at the start. You need to push the little rectangle of the puzzle out of the piece, and you can discard that.
You'll find there are 8 pieces that don't make it into the puzzle - they are cut out in shapes, so there's no confusing them - and they correspond to parts on the puzzle, a farmer on his tractor, a duck, a bird, a sheep and so on. You slot them in to the puzzle pieces and hey presto! A 3D puzzle. It's quite fun because you can use them for role play or story telling or whatever. My girls enjoy them.
It's a really cheap puzzle, with an RRP of £4.50, but I've seen them for less. It is well made, and sturdy and certainly holds up to two little toddlers.