Faber Castell has what I'm assuming is a new to the UK range of crayons and writing tools for children. I say I'm assuming they're new because I can't find them on Faber Castell's UK website at all. On the websites for other countries, like Germany, they fall  in the Playing & Learning section for kids.
I've never bought a set of Faber-Castell crayons for my children, because I didn't see the point in paying the prices for 'decent' wax crayons when cheap would do just fine, but after a few days using the goodies Faber-Castell sent us, my feelings on the matter have changed somewhat.
Read on to find out how.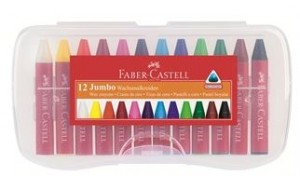 We were sent a set of 12 Jumbo Wax Crayons. These crayons come in a plastic box, which at first I thought was a little obsessive, but having used them myself, I'm quite happy for them to come in protective packaging. The box is perfectly easy enough for my 3 year old to open, but not so much for my 1 year old.
Inside the box is a set of 12 triangle shaped wax crayons. They're in that three-sided 'ergonomic' shape that makes them easier to hold without causing hand cramping or anything.
The best thing about these crayons though, is how amazing they feel in the drawing. I wish I could describe it... it's a little rough, and almost feels like drawing on paper with chalk. I think the wax to other stuff ratio is different to that in cheaper crayons, perhaps? The colours are beautiful and vibrant, and the crayons aren't as crumbly as normal crayons.
I'm actually in love with a crayon. I'm hiding it away for when I have stuff to colour.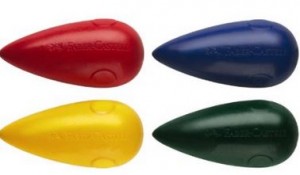 Next up is a four pack of  3+ crayons (£5.95) with what they call a 'grasp grip'. It essentially looks like an upside down elongated egg. The idea is that it's a bridge between first crayons and normal crayons, but I think the age is a bit off for that. My daughter uses it as a novelty, not because she needs it. My little one really gets on well with it, and she's only 15 months, so I'm not fussed by the age recommendation. That said, I wouldn't let her have it without me around because I can imagine it going into the mouth and down the throat quite easily.
These are also great because they are harder to break than long, thin crayons.
The colours are also fantastic. I love it.
The Faber-Castell Scribolino (£9.18) is a mechanical pencil, but it's odd shape gives it a three pencil grip, making it a great pen for learning to write. It's also a good left or right hand pen, but I must admit I didn't know lefties needed a different kind of pen?
The Scribolino comes with six leads, then you'll have to replace them, but they take thick 1.4mm leads, which means they don't break as easily as some of the finer points, making them good for kids.
These are listed as being for age 6+, but again, as an 'ideal for learning how to write' tool, I'd imagine 6+ is too old?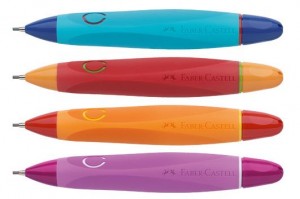 Finally, we were sent the Scribolino Ink Rollerball Pen(£13.62). This pen is also shaped in a soft triangular kind of shape. It comes with a lid that will be lost in five minutes as it doesn't hook onto anything on the pen itself, and an extra vial of ink. There's space at the back of the pen for an eraser 'cartridge' to go onto the back of the pen as the ink is erasable. Unfortunately the pen doesn't come with the eraser, which seems a bit silly.
The ink does roll on, in a roller kind of fashion, and it is a smooth writing experience. I didn't have the eraser, so I couldn't test the erase-ability of it.
They did send me a super fancy, ergonomic, Faber Castell eraser, but it didn't work on that ink, just on normal pencil. It's a lovely soft eraser, and it melts away quite quickly. I don't foresee it lasting terribly long. It is PVC-free though, which is good if you're trying to avoid that.
The Good
Faber Castle's children's line is gorgeous, but it is expensive
It is good quality though. You can feel that in the using
It's ergonomically designed
Using the various refill options, it looks as though the Rollerball Pen can be a pen or highlighter
The Bad
It's pricey
The eraser just melts away
The Verdict
If you have a child who looks after their things, I think this would be a perfect product line for them. If you have a child who would as soon stomp her crayons as colour with them, it may be worth waiting a while. I'm not much of an artist, but the crayons especially, make me want to pick one up and draw.