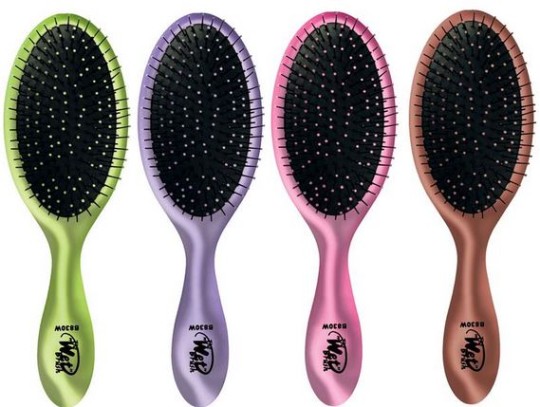 We've all been there, I'm sure. It's ten minutes before school (or preschool in my case) starts, you're a 15 minute run-walk away, and you're still trying to get a hairbrush through the tangled mess of mouse-nest hair that you once thought of as golden downy locks. Your toddler is doing some kind of backwards downward dog yoga lean in an attempt to get away from the brush, which is currently tangled in her hair, and the blood curdling screams have you cringing inwardly as you're sure that by now the neighbours have called the police. You finally decide that it's good enough, and your little one's pony tail will have to be an off-center one, to cover the offending knot. Your teary tot goes off to school in a sulk and huff and you're just grateful to be done. Till tomorrow.  Yeah, I have a daughter with beautiful ringlets that everyone loves... but they don't see the darker side to ringlets! Well, enter The "Wet" Brush .
The "Wet" Brush features 'specially formulated' IntelliFlex bristles which are strong and flexible, so there's no more pulling, tugging and tearing of hair. They claim this brush is great for hair of all lengths and types, and can even be used on wigs and hair extensions.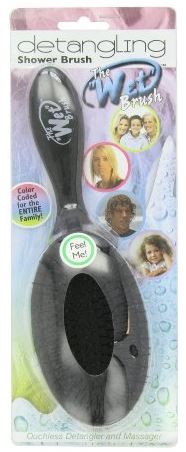 The Wet Brush has different brushes in it's range, and reading through Amazon reviews people have bought the brush with different bristle lengths from the Us. This isn't that one. This one has same length bristles, spread evenly across the brush bit. It has a long handle which is great for holding with your whole hand. I know that sounds strange, but for someone who doesn't have child-sized hands, that's brilliant, because normally I'm clinging to a short handled brush in much the same way as you cling to the edge of a bed when you have a toddler sleeping in it.
This also makes the brush quite big - a good and a bad thing. It's hard to lose it, since it's so big,but it's also hard to carry in your handbag as it takes up a lot of room!
These brushes are available in a range of colours. We received a metalic green one, but you can choose from a range of colours which would be good if you wanted your own brush for each child or member of the family.
So how does The "Wet" Brush work?
Well, it's quite interesting. On my own dry hair - it works on dry hair too - it feels quite weird. It feels as if its not really going through the hair, and not really getting in there. I have long straight hair, but it can get a bit knotty and tangled too. A bit of pulling and tugging and it's all good though. With The "Wet" Brush it feels like you're not really quite brushing it, more like rubbing it over your hair - yet somehow it comes out untangled and knot free - so clearly it's working.
For my daughter with The Locks of Doom however, she wouldn't actually stand still long enough for me to have much success. She can see a brush a mile off and starts squirming and wriggling like a politician. I guess that's to do with the historic use of a 'normal' brush that doesn't look too dissimilar.
In the bath though - after having her hair washed - it's a different story. We've managed to incorporate The "Wet" Brush into the after bath routine quite nicely, which means she gets her hair brushed and plaited for bed, making the morning brushing so much easier. 
Where can you find it?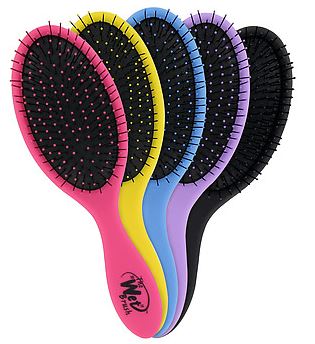 The "Wet" Brush is available from some hair salons, so you might spot it at your local. It's also available from Sally Express for £13.74 delivered, in pink and purlple. Otherwise Amazon have a varied range of colours* depending on who you buy from. They're available from £8.99, but a word of warning - The Wet Brush don't guarantee the authenticity of those on Amazon, so you may do better to spend the extra few pounds and get the real thing, especially if it's for a child.
The Good
Well, it's a bit of a miracle product for parents who know the pain of hairbrushing time. It's not expensive, in the grand scheme of things, and it works well. It comes with a huge following of positive reviews. It's a large size, easy to hold on to and it seems durable.
The Bad
The sizes in the UK are quite limited in comparison to those in the US, but I suppose if the demand for it grows, they'll bring different colours and patterns over the ocean too.
The Verdict
Honestly, it's going to cost you at best £14. It's totally worth that, if it works out well for you and your little one.