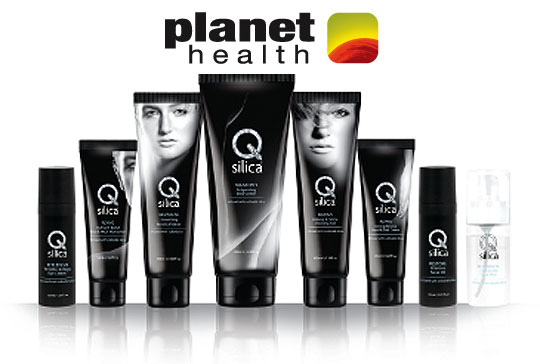 The words 'skin care review' barely have to be uttered to have me jumping up and down in the PlayPennies office, saying, "Oooh!  Oooh!  Me! ME!" so I was the lucky one who got to review a few things from the new Qsilica skin care range by Planet Health.
The name 'Planet Health' should give you a bit of a clue as to the ethical stance of this company and the sort of ingredients their products contain.
Parabens, chemicals, sulphates, petroleum, synthetic additives and animal testing are dirty words in the world of Planet Health, and you won't find anything of the sort in any of their products; very good news for our skin, the planet and fluffy animals everywhere.
Launched here in the UK in September, the Qsilica skin care range features eight products and all are infused with Colloidal Silica, let me tell you more...
Silica is a mineral naturally present in sand and Quartz, it's also found in various grains and vegetables and is an important nutrient for the skin; not getting enough nutrients is what can make our skin look dull and old before its time.
Qsilica is a form of silica that has been optimised for easy absorption; it provides antioxidants and vitamins, which results in skin having a natural glow, that looks youthful and is soft and supple.
Planet Health sent me three items from their Qsilica skin care range:
Qsilica REPAIR - Strengthening Hand & Nail Cream - 50ml RRP £10.94
Qsilica REVIVE - Nutrient Boost Face & Neck Moisturiser - 50ml RRP £15.95
Qsilica REJUVENATE - Invigorating Body Lotion - 200ml RRP £19.95
Here's my verdict on the Qsilica skin care range...
I deliberately tend not to look at the prices and marketing information that's sent along with skin care before I've used the products for a while; I don't want to be influenced by anything other than my experience whilst using them.
The Qsilica skin care packaging is very gender non-specific - black, grey and silver colouring make the products unisex, as does the smell and this was my first (and only, if I'm honest) stumbling block.
I really didn't, and still don't like the smell of any of the Qsilica skin care products; to me, they all smell predominantly of lime and I can't stand lime smelling things,  it reminds me of the cleaning fluid my senior school used to use!
I know smell reactions are very personal but I'm telling you this for a reason - the Qsilica products are THAT good, I'm prepared to 'get over myself' when it comes to their smell; if you've read any of my other skin care reviews you'll know THIS is a big deal, an unpleasant smell (for me) is usually a firm deal breaker.
I've been using the Qsilica products for a couple of months now and they've really been put their paces; what with our early October heatwave, followed by the rapid cooling and the central heating being switched on, my skin has taken a real beating - I'm outdoors in all weather walking the dogs and once inside I'm invariably sitting in front of the fire.
Usually I'm battling to stop my skin from feeling tight and itchy where it's drying out so fast, not this year!
I like to test things thoroughly though and have used several other products at the same time as the Qsilica skin care; I used Qsilica on the left side of my body and other things I'd usually use, on the right.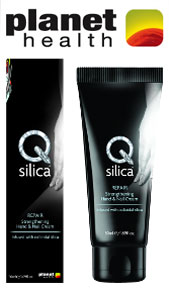 The Qsilica REPAIR Strengthening Hand and Nail Cream is wonderful; it's heavy without being heavy and as a result, thanks to Vitamin E, Avocado Oil and Macadamia Oil, provides some heavy duty care for dry hands in need of some love and affection
However, don't automatically conclude that this means it's greasy, it's not. I've just put some on my hands now and I can type again straight away - everything's been absorbed very quickly, my skin feels super soft and there's not a hint of greasiness to the touch or the eye.
I love everything about the Qsilica REVIVE Strengthening Hand and Nail Cream (forgetting the lime smell; I'm getting used to it) apart from the price although, I must confess to wavering on this point.  £10.94 for 50mls is NOT cheap and if you have really dry hands that need frequent care then this isn't going to last you overly long.
Is it worth it?  If you can afford it, most definitely; if you can persuade someone else to buy it for you, ABSOLUTELY - think Christmas, birthdays, anniversaries, Mother's Day and 'just because' presents!
Pros - not greasy, very easily absorbed, effects last a good while, no horrible ingredients and not tested on our furry or feathered friends
Cons - not cheap, I don't like the smell (you might love it!)
Overall score - 8 out of 10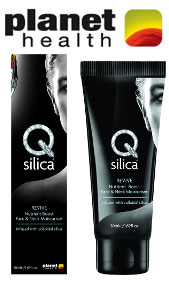 The Qsilica REVIVE Nutrient Boost Face and Neck Moisturiser is even more expensive at £15.95 for just 50mls and, whilst it's as good as the hand and nail cream, I'm really not sure I'd be prepared to pay just shy of £16 for it.
I know you get what you pay for, and it really is lovely to use, but there are limits and I feel the Qsilica REVIVE Nutrient Boost Face and Neck Moisturiser goes past that.
It contains natural Vitamin A derived from coconut, along with Vitamin E from Sunflower Oil and Macadamia Oil; it does do everything it promises to, but I just can't get my head around the price which is a shame.
Pros - the same as the hand and nail cream: not greasy, very easily absorbed, effects last a good while, no horrible ingredients and not tested on animals
Cons - too expensive, I still don't like the smell
Overall score - 6 out of 10 because of the price
Please don't despair, there's better news for the Qsilica REJUVENATE Invigorating Body Lotion.  Whilst it's the most expensive of the three Qsilica skin care products I was sent, it's also a good size - 200mls for £19.94.
Now, I'm not sure whether or not I felt invigorated after using the Qsilica REJUVENATE Invigorating Body Lotion but I can tell you that my skin felt, and feels, wonderful.
A little goes a l-o-n-g way - you know when you usually use too much body lotion, the more you try to rub it in the whiter it goes and seems as if it will never 'go away'? Well, I thought I'd done this with the Qsilica REJUVENATE Invigorating Body Lotion.
However (!) between wandering off to the airing cupboard to get a towel to rub it off with and going back to the bathroom, it had all disappeared into my skin without any additional 'assistance' from me.
Gone is the usual winter tight feeling, especially after a bath or shower, and there really is a lovely healthy glow to the left hand side of my body thanks to Avocado Oil, Macadamia Oil, Shea Butter and Vitamin E.
Pros - everything I've mentioned for the other two Qsilica skin care products, as well as a little going a very long way
Cons - this one really is very limey (I'll get over it) and it's still not cheap but you do get more for your money
Overall score - 9 out of 10
And finally...
For the first time in a long time I find myself in a bit of a quandry - PlayPennies is for money conscious parents and I'm struggling to see how the Qsilica skin care products fit into 'money conscious' because they're not cheap, BUT they are fabulous to use!
I can't fault the Planet Health ethos, the ingredients they use and the results they delivery so, on THAT basis, for products that are paraben, chemical, sulphate, petroleum, synthetic additive and animal testing free Qsilica skin care is worth every penny.
Do you see my dilemma?
Okay, here are my coming-down-off-the-fence final thoughts:  if you can afford this then buy Qsilica skin care and use it - your skin will thank you; if you just can't allow for the cost in your skin care budget then ask for Qsilica skin care as gifts - your skin will thank you.
You can buy Qsilica skin care products online at uk.planethealth.com.au or in-store at Harrods or Selfridges (if you happen to be passing *grin*), alongside leading natural health stores and pharmacies nationwide.
Now all I need to do is use everything on the right hand side of my body so it can catch up with the left!