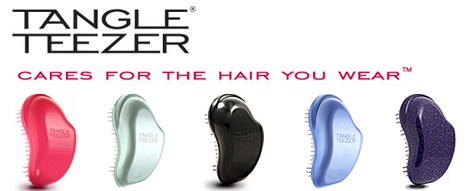 If you've been procrastinating over whether or not to get a Tangle Teezer, here's your chance to pick one up on the cheap...as long as you don't mind it being in SHOCKING PINK!
If you've got a child who has seriously curly hair then you'll already know just how high maintenance it is. You'll also be all too familiar with the screams and yells of, "OUCH!!! You're hurting ME!!!" that go with it. Nightmare!
The Tangle Teezer's clever design eliminates all of that, and makes detangling hair a breeze and, dare I say it, a pleasure!
All in, you can have one in your hands for £6.99: the actual Tangle Teezer is £3, reduced from £9.99, and delivery is an additional £3.99. Now before you shy away because of the delivery, read what some folks over at HUKD have to say - they're not ones for suffering OTT delivery charges gladly!
I paid £7 but you have a choice, this or tears of your daughter. I would pay even £20 for this piece of plastic

We were sceptical as to whether these work but having seen a demo of one in action in Hamleys last month we took the plunge and I have to say that they are brilliant

I missed this last time it was reduced but the positive comments were much the same so I've decided to take the plunge. If it stops the tears then it will be well worth it!

I would normally donate a kidney rather than pay a tenner for a piece of plastic tat, unfortunately these are ace. I have 2 young daughters with very curly hair and this is the only thing I have found that works.
NOW what do you think about shelling out £6.99? By the way, you don't have to have a curly haired child to benefit from a Tangle Teezer! If  you have curly hair, or are trying to grow it, they'll be great for you too.
Thanks to pink_gerbera365 at HUKD