With Mother's Day just around the corner, mums up and down the country will be receiving lotions and potions for pampering. What better time to support a women's charity while treating mum then?
We asked mum and daughter duo Sandra and Kim to review another set of beauty products for us, this time from All For Eve. 100% of 'All for Eve's' net profit goes to The Eve Appeal, a women's charity which raises funds and awareness for Gynaecological Cancer Research. All the All For Eve products are paraben free, contain no nasties and are infused with organic cucumber and lightly fragranced with an allergen free scent.
We sent our tester-couple the hand cream, body scrub and body butter, and they gave us pretty mixed reviews. Here's what they had to say:
All For Eve Hand Cream £7.50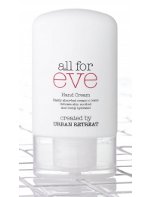 "The hand cream is fresh and light smelling, I really can't put my finger on any particular something it smells like; its not unpleasant though and its not overpowering," says mum Sandra. "The cream itself is quite thick and almost has a translucency about it, it doesn't go watery when you start to rub it in but its definitely not greasy either."
For daughter Kim, the hand cream is a winner too. The backs of her hands tend to get a bit dry in the winter, so she used the All For Eve Hand Cream.
"I like the smell a lot" Kim told us, "but because it smells a bit of sun cream and reminds me of my skiing holiday a year ago."
A little goes a very long way so you really don't need to apply too much at all. She found it absorbed quickly but not so quickly that you end up feeling like you should put more on. Kim believes that the 100ml container will last a very long time and for £7.50 is good value for money.
Sandra agrees, "I'd happily pay the £7.50 for the hand cream (I've paid more for less) because it does a good job. I'm not sure if it would be up to the task of heavy duty hand protection in dry/cold weather, but if you want a decent hand cream that does all the things we've already mentioned then you could do far worse than this one."
The Body Scrub £7.50
"Ne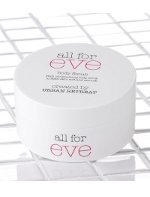 ither of us liked the smell of this, it was reminiscent of musty old waxed jackets!"said Sandra. They felt it was too creamy with not enough scrub, "but then I like to feel as if I've been sandpapered in the shower. So for me this just seemed a bit 'namby-pamby'."
Kim, on the other hand, felt there was adequate 'scrubbing' going on and said it was very easy and quick to wash off.
"So, mixed reactions for the body scrub, but neither of us would buy it; the smell was a big influencing factor on this. We certainly didn't get the 'refreshing and uplifting scent' we were expecting after we'd read the blurb on the back."
Hydrating and Refreshing Body Butter £10.50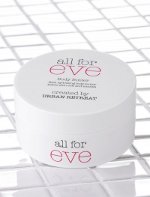 "My daughter thought the body butter smelled very nice which was odd, because I thought it had the same musty waxed jacket smell that the body scrub had!"
Kim says it was very cool and smooth to apply, left her skin very lightly covered, nicely moisturised and not overly greasy and quick to absorb into the skin.
Sandra really didn't like it at all - the smell put her off again, and she had a bit of a reaction to it. "It left my skin feeling cold and clammy AND I came out in a non-itchy rash across my decollete. I've never had this happen before so I can only put it down to the All for Eve Body Butter, although quite why it should I have no idea. My daughter didn't suffer any adverse reactions to it at all."
So what do our mother-daughter duo have to say for the finish?
"To sum up - the hand cream was a definite winner, the body scrub, NO because of the smell (or lack of) and the body butter another no from me, but a yes from my daughter."