We received a superb pack of all sorts of goodies from Poundworld to review for you, and I have to say, it was like Mary Poppins' bag with the never ending treats that came out of it!
It will probably be easiest to divvy it up into different sections: Things to eat, things to do, things to make and things to wear.
I think Poundworld have pretty much everything you need for a lovely Easter weekend, and a party too.
To start with – things to eat:

Poundworld have an offer on Children's Easter Eggs, which they're selling for a £1 or four boxes for £3.  Way cheaper than some other options around and certainly great value if you're doing an Easter Egg hunt. The boxes decorated with Disney characters such as Thomas the Tank Engine, Peppa Pig, Disney Princesses and so on.
Quality wise, it's fine. It's no Belgian praline, but it's standard chocolate, comparable to anything else you'll find in the genre, suitable for vegetarians, with a long shelf-life, so it doesn't all have to be eaten in one go. My sister liked it, as did my two-year old, (and myself!) so no complaints, really.
The boxes also have cut-outs you can use for decoration and play.
Things to do: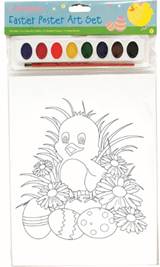 There are some really fabulous activities available from Poundworld for Easter.  We received an Easter Poster Art Set with four posters, eight paints and one brush. The posters are thick paper with variations of a chick, eggs and flowers on them, and the paintbrush and paints are regular water paints, easy enough to wash out of clothing and off skin and so on and will make a really fun activity, perhaps for after a big Easter lunch! Just be warned, the paint itself is rubbish. The paintbrush looks like a chimney sweep's tool within seconds, and the paints themselves are terrible quality and there's not much of it at all. You can use it, but it's going in the bin straight after. We ended up using different paints for the remaining three pictures.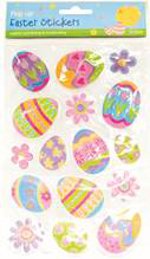 We also received two sets of 3D stickers, ideal for card making and scrapbooking. These are really cool. They are quite large, and plastic, with hollow insides on sticky backing. I'm not really sure what to say about them, except that they are lovely, colourful and will make great decorations on cards and craft projects. The bunnies, eggs and chicks are adorable, cuddly-looking and very sweet and again, my two-year old loved it. It was fun trying to get them back off her so I could look at them properly!
Things to make: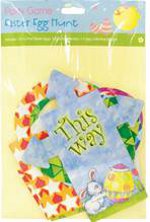 We received an Easter Egg Hunt Party Game kit which gives you everything you need to set up a hunting party for four. In the kit you receive 10 two-part paper eggs, if you want to balance out the sugar but keep the fun going, four rabbit pointers to guide young treasure hunters on their journey and four foldable collection baskets.
Throw in some bunting and cupcakes, and you have a party – speaking of which, we also received two cupcake party packs with picks. The first has a bunny rabbit and the second a chick theme. They come with toothpicks with little bunny and chick and egg pictures on them, all great for decorating cupcakes for your party.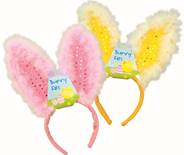 Finally, there has to be something to wear, and from Poundworld you can choose either bunny ears in pink or yellow and fur and sequins, perfectly sized for a small head. The ears are shaped and kept in place with wire, and it's quite firm, so it won't flop about. There's also an Easter Bonnet in yellow perfect for decorating too.  Both suit girls, and I'm not sure if they have equivalent products for boys as their website doesn't actually show their products, but these are quite well made and will certainly withstand the weekend – ours is now in the dress up box and gets played with on and off.
THE GOOD
Well, it's cheap. There's no denying that. With the exception of the stickers which aren't cheap per se at £1 a sheet, everything else is certainly worth a pound, and in most cases I'd be happy to pay more than a pound for them.
They're also remarkably good quality for things that are that cheap and you'll get your money's worth for them. I think the Easter Egg Hunt is particularly fab and works out at 25p a child – brilliant.
THE BAD
I don't really think there's anything bad to say about any of these products. You're getting what you expect when you walk into a Poundworld, but to be honest, I think it's all pretty good value for money - with the exception of the paint and brush from the art set.
FINAL THOUGHTS
If you're planning a party or having a lot of people over for Easter, this could be a fun and festive way to celebrate, while still keeping the kids busy and the costs low.
Considering there's no more than a 100 pennies on each item, I reckon for the most part it's worth every penny.