Outdoor Ice Skating Review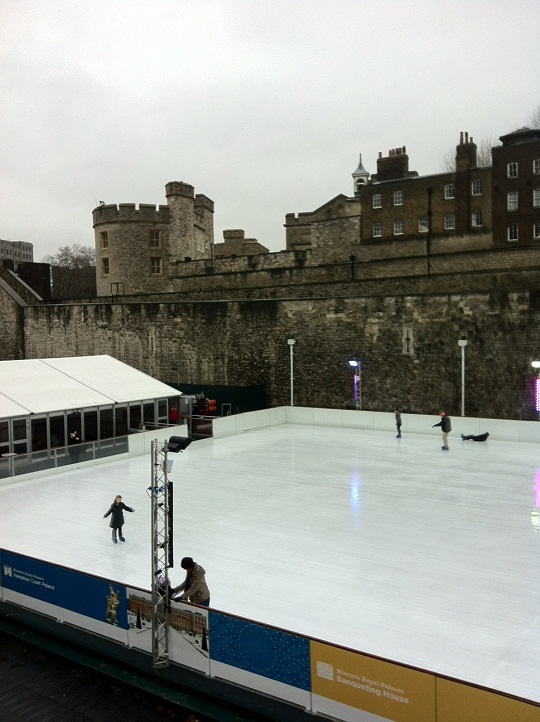 In the last few years outdoor ice skating rinks have appeared all over the place. They look like fun, and aren't too extravagantly priced for a treat. Most I've seen have been around £9 to £13 a person. So this year we decided to give it a go.
The outdoor ice skating rink we went to is located at the iconic Tower of London. It is run by the same company that runs the rinks at the Winter Wonderland in Hyde Park, and the rink at Hampton Court Palace. Like many outdoor rinks, it will be open until the 6th of January, which means you've still got a chance to go for one last Christmas holiday treat before school goes back.
This particular rink costs £13 for adults and £9 per child during peak times. A family of four ticket costs £36.
There are some hidden costs, and this will be worth keeping in mind no matter where you book. Such as the £3 per transaction booking fee when you book online. Also, no bags are allowed on the ice, so if the whole group is going out there you're obliged to use the storage facility and this costs £1 per item.
It poured down the day we went, and that's definitely something to keep in mind when booking outdoor ice skating. As it says on the website - what happens when it rains? You get wet. There was a good inch of water on the ice in places, although the down pour had stopped when we got on to the ice.
This is not necessarily a bad thing. If you've ice skated before then you'll find it fun. There's something awesome about swishing that water as you turn corners. If this is your first time on the ice then make sure you wear waterproofs. You will fall over a lot and you won't enjoy it at all if you're soaked in icy water.
My last tip - make sure that the ice skating rink has penguins for children to hold on to. They'll enjoy it a lot more. This one doesn't. And an absolutely must - take a complete change of clothes including socks. Outdoor rinks can get wetter than indoor ones even when it isn't raining.