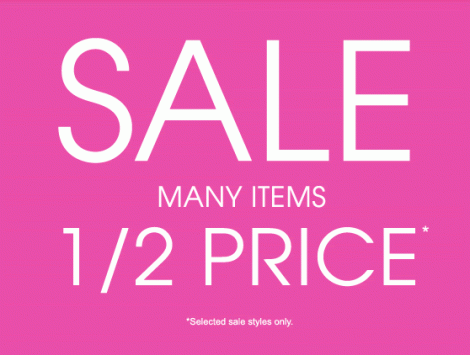 In case you haven't heard (seriously, where have you been?) March is for Mums here at Play Pennies and that means we are tirelessly dedicated to scouring the planet all month long for fabulous deals and treats for all the Mama bears out there. So how's this for a little bit of what you fancy? La Senza has a 1/2 price sale on right now! We've literally just this minute heard about it so if you're quick there should still be loads of lovely lingerie still in stock for bargain prices.
This cheeky little number is only £5, down from £18, and the matching pants are £3, down from £12. Sorted! Watch what you do with those bows though, they could take an eye out.
There are loads of rather lovely bras in the sale that are usually £16 but you can pick up 2 for a bargain-tastic £20. That's £4 for a sassy new over-the-shoulder-boulder-holder, or two for a tenner!
It's not just about bras either - there are knickers (5 pairs for £12), and nightwear

to be had for discounted prices too. You can shop by size by just entering your vital statistics and browsing everything in the sale in your size. Easy.
So if you forgot to spoil the mother of your children over the weekend,  it's not too late to make amends.  Just make sure you check her size before ordering - there's nothing worse than being bought lovely pants that do not fit - except maybe being given Granny pants!